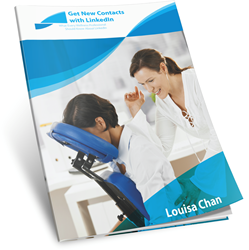 Some coaches struggle to complete their LinkedIn profile from a marketing perspective … But, coaches need to optimize their profiles to stand out.
Kuala Lumpur, Malaysia (PRWEB) October 12, 2013
Marketing coach Louisa Chan today announced the publication of her new guide, which reveals how coaches, trainers and wellness professionals can set up a credible and authoritative presence on LinkedIn in order to reach valuable new clients. The guide provides clear and actionable advice for maximizing LinkedIn's newly introduced features and is available now at http://www.louisachan.com/why-healers-coaches-and-trainers-use-linkedin-to-get-clients/.
LinkedIn is the world's largest professional networking website and, with 238 million members worldwide, it is also the most effective social media platform for connecting with new clients. In fact, recent research suggests that 43% of all marketers have found a customer via LinkedIn in 2013 (HubSpot).
The platform's professional and high-earning average users make LinkedIn a great place for coaches, trainers and healers to reach people who are actively searching for their services. But, many coaches and trainers are missing opportunities to connect with their ideal prospects. Louisa Chan drew on her experience with marketing for coaches as she commented:
"LinkedIn has recently introduced new features such as channels and media capabilities to help professionals showcase their work and expertise." She continued, "It's crucial for coaches, corporate trainers and wellness professionals to use these new features to set up a credible and trustworthy LinkedIn presence. After all, this is where potential clients will check you out."
Ms. Chan explained that some coaches struggle to build a LinkedIn profile from a marketing perspective. It is for this reason that many training professionals have not completed their LinkedIn profiles, or have not optimized their profiles and so are not found through LinkedIn searches. Louisa emphasized that this can be a costly mistake, which can jeopardize the success of the business. She said:
"Coaches and trainers should not take the same approach to LinkedIn as they do with other social media platforms, as it's a uniquely business oriented platform with an equally unique set of features." Louisa added, "And a LinkedIn profile should not be treated as a static online résumé, as it needs to convey a compelling marketing message to showcase your brand and expertise."
Louisa's new guide is in line with her larger portfolio of videos and web training offering expert advice on marketing for coaches and has been written with the aim of helping professional coaches and trainers market themselves elegantly on LinkedIn.
Ms. Chan's guide offers actionable steps for setting up a credible and authoritative presence on the platform and explains how to make use of LinkedIn's features to build a strong brand that stands out from the competition.
Louisa concluded the interview by saying: "LinkedIn is evolving rapidly and as it rolls out new features to open the platform up to college students, it offers the perfect opportunity for career coaches and youth coaches to reach Gen Y and Gen C clients."
About Louisa Chan
Louisa Chan is a well-established, accredited business coach and corporate trainer who has provided consulting services to big brands and multinational companies in various countries across Asia.
Louisa helps conscious professionals establish and grow sustainable heart-centered businesses through effective online marketing. Currently based in Kuala Lumpur Malaysia, Louisa holds in-person corporate training events and provides online coaching for coaches, trainers, and teachers worldwide.
Louisa Chan's website http://www.LouisaChan.com has more information.