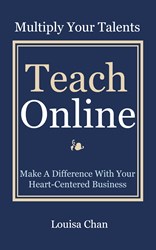 Setting up heart-centered online teaching business ... offers coaches an avenue to leverage their talents, impact more lives and generate greater financial returns.
Kuala Lumpur, Malaysia (PRWEB) November 12, 2013
In an exclusive interview for Online Income Teacher, trusted business coach Louisa Chan talks to Matt Smith about her experiences building an authentic online teaching business, as well as the launch of her new book "Teach Online: Multiply Your Talents", which she has written to help heart-centered coaches and trainers set-up their own online businesses to make good use of their talents and increase their income potential. The complete interview is available now at http://onlineincometeacher.com/interviews/louisa-chan-interview/.
In the interview, Louisa discusses her experience with authoring Computer Based Training (CBT) and facilitating training in the early days of online learning. She also discusses her reasons for transitioning from corporate consulting work to online coaching.
As an experienced heart-based marketing coach and business owner, Louisa believes that much of the success and sustainability of a heart-centered business comes when the business owner is able to find meaning and enjoyment in the work that they do. Louisa commented:
"In order to overcome the obstacles you will face in your online startup business, it helps if you first understand your purpose for starting the business."
Speaking with Mr. Smith, Louisa explains that aligning business goals with personal goals is critical for the enjoyment of work as well as the long-term success of the business.
In addition to working with private clients to build their businesses, Ms. Chan regularly taps into her life coaching skills to offer clients tips and advice for working through productivity issues. It's this same passion for helping mindful business owners that has informed Louisa's new book entitled "Teach Online" (details can be found at http://www.louisachan.com/teach-online).
In her book tour with Online Income Teacher, Louisa discusses how her new Kindle book is different from her last e-book, which was recently featured on Malaysia's BFM radio station. Louisa explained:
"Every coach, trainer and teacher has been given the talents and skills to make a meaningful difference. Setting up an online teaching business the heart-centered way offers them the freedom to leverage that skill and talent to reach more people, impact more lives and, yes, even generate greater financial returns."
Louisa uses the term "Multiply Your Talents" to refer to the ways in which coaches and trainers can both build profitable businesses and get more results from their existing talents and gifts by leveraging technology to teach online. She added:
"It was important for me to include this discussion in the book and introduce specific business systems that mindful professionals can use to make the most of the talents they have and also to offer teachers and coaches a sound incentive to start their own online businesses."
Louisa's new book provides powerful inspiration and practical advice for starting and running a heart-centered online teaching business from home. The book offers coaches and trainers a flexible business model, which they can adapt and use to set up an ethical teaching business.
"Teach Online: Multiply Your Talents" has launched for Kindle and is available now on Amazon at http://www.amazon.com/Teach-Online-Multiply-Difference-Heart-Centered-ebook/dp/B00GH5ELI4/
More information about Ms. Chan's new book can be found at http://www.LouisaChan.com/teach-online.
About Louisa Chan:
Louisa Chan is a well-established, accredited business coach and trainer and who has provided consulting services to multinational companies in various countries across Asia. Her broad work experience with clients from diverse backgrounds has allowed Louisa to appreciate the differences in heritage, culture and underlying beliefs that affect how people relate to business issues.
Ms. Chan helps mindful professionals and thought leaders establish and grow successful heart-centered businesses through effective online marketing. Currently based in Kuala Lumpur Malaysia, Louisa holds in-person corporate training events and provides online coaching for trainers, teachers and coaches worldwide.
Visit Louisa Chan's website http://www.LouisaChan.com for more information.
About Online Income Teacher:
Matt Smith founded Online Income Teacher in June 2011 after running successful websites and receiving requests from people interested in monetizing their presence online. Online Income Teacher publishes interviews with established industry professionals, as well as offering advice and information on starting a website and generating money from it.