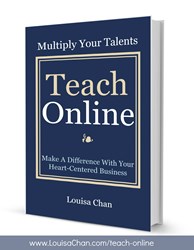 Everyone has skills or natural talents... you can leverage those, teach online and make a meaningful difference to someone.
Kuala Lumpur, Malaysia (PRWEB) December 09, 2013
Marketing Expert and Business Coach Louisa Chan conducts an exclusive interview with Freda Liu from Malaysia's Business Radio Station, BFM 89.9, ahead of a special Amazon Kindle promotion for her newly launched book "Teach Online: Multiply Your Talents". The interview, in which Ms. Chan discusses viable ways for heart-centered professionals to leverage their talents by teaching online, is available now at: http://www.LouisaChan.com/bfm-interviews-louisa-chan-on-teach-online-multiply-your-talents/.
Global Industry Analysts Inc. reported that the global private tutoring market is projected to surpass $102.8 billion by 2018. Additionally, according to a recent survey by Ambient Insight Research, the global market for online learning products, which was valued at $32.1 billion in 2010, is expected to rise to $49.9 billion by 2015. As more learners embrace self-paced eLearning and the demand for online teaching and training grows, business coach Louisa Chan explains how heart centered professionals can teach online and use this avenue to reach a broader audience with their current skills and knowledge.
Discussing the impetus for her new Amazon Kindle book in a live and nationally broadcast interview on BFM's "Raise Your Game" program, Louisa Chan explains that "everyone has natural skills, talents and experiences acquired through life that can be helpful and beneficial to others". Louisa added that sometimes we don't realize the gifts we have as they come very naturally to us, but other people may be struggling to learn these skills. It is, therefore, important not to take these talents for granted, but to teach them to others.
Louisa explained why it is crucial to pass on your talents, as well as the consequence of not doing so. She continued: "Teaching online gives mindful professionals a channel through which they can multiply these talents, helping other people live a better life and, yes, making economic gains."
The word "teach" is used in the book to include sharing one's experiences to help others via coaching, training, mentoring or consulting. Speaking in the interview with Ms. Liu, Louisa explains that new media such as Google Hangouts and video conferencing allow online teachers and trainers to extend the reach of their message to help more people while maintaining real-time, interactive, two-way communication.
"With new technology that is user friendly and largely free to use, any heart-centered professional can make a real difference by starting their own online teaching businesses and reaching people who may be further afield or may not have the time to attend in-person training." Ms. Chan continued:
"This business model is not only sustainable online but also works directly with students and clients, allowing professionals to operate with transparency and fairness in accordance with their mission."
Louisa's interview comes ahead of a special Amazon Kindle Countdown Deal beginning December 12th, where her new book, "Teach Online: Multiply Your Talents", will be available at 67% off on December 12th. Details for the time-sensitive promotion are available at http://www.LouisaChan.com/teach-online.
Ms. Chan explained:
"The upcoming Amazon Kindle promotion hopes to inspire more mindful professionals to take up the challenge of starting their own online teaching business." Louisa realized that self-sabotaging thoughts often hold people back from launching their own business. In her recently launched book, Ms. Chan aims to help her readers identify and deal with these self limiting beliefs using a free online mindset assessment, which comes as a companion to the Kindle book. The mindset assessment can be found at http://www.LouisaChan.com/mindset-assessment.
The book "Teach Online: Multiply Your Talents", offers practical guidance for developing business-building mindsets, as well as systems and processes for starting and running an authentic, credible online teaching business.
About Louisa Chan
Louisa Chan is a well-established, accredited business coach and trainer and has provided consulting services to big brands and multinational companies in various countries across Asia.
Ms. Chan helps mindful professionals establish and grow successful heart-centered businesses through effective online marketing. Currently based in Kuala Lumpur Malaysia, Louisa holds in-person corporate training events and provides online coaching for trainers, teachers and coaches worldwide.
Visit Louisa Chan's website http://www.LouisaChan.com for more information.
About BFM
BFM (FM 89.9) is Malaysia's only independent radio station, focused on business news and current affairs. BFM applies a rational, discourse-based approach to all programming areas such as entrepreneurship, health, fashion, the arts, sports and music, as well as to its executive education initiative, The BFM Business School, and to its digital magazine, The B-Side.