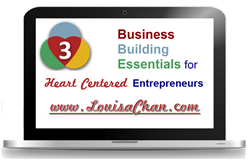 Many are busy with non-essentials and leave out the most important parts of business building... I believe this training provides a valuable guide for setting this right.
Kuala Lumpur, Malaysia (PRWEB) December 20, 2013
Louisa Chan, heart-centered marketing expert today announces her new training "Business Building Essentials" for coaches, trainers, teachers and thought leaders. This training aims to remove the sense of overwhelm and confusion by providing actionable strategies which focus on laying a firm and holistic foundation and building core assets which bring results for startups and new businesses. Additional information is available at: http://www.LouisaChan.com/business-building-essentials-training/.
The Small Business Administration office of advocacy reports that every month there are about 543,000 new businesses start ups in the US alone. Unfortunately, a large portion of these will not survive past the first 2 to 5 years of business. Louisa Chan explained her reason for coming up with this Essential Business Building Training.
"This course came about because independent heart-centered coaches and teachers who are thinking of starting up their online businesses have come with questions and concerns and are looking for a straightforward eLearning course that would help them get this right, understand the different moving parts of business building and what they need to do (or not do) in order to build a profitable business."
Louisa continued, "Some coaches and trainers are always busy and working hard but they are not seeing the progress they desire. In fact many are close to experiencing burnt out." One observation Louisa has is that these heart-centered coaches and trainers often tire themselves out with the non-essentials but leave out the most important parts of business building. This is most unfortunate. The time and effort spent could have been put to better use to produce tangible results.
Louisa shared that she understands the challenge of leaving a well paying job to start a business on your own, without any support while facing uncertainties and even objections from the family.
Ms Chan commented, "I know that many of these independent heart-centered coaches and trainers use their own savings or get loans to start their enterprise. These are determined individuals who are willing to sacrifice short term gain for long term success and they have the will power and the discipline to implement what they learn." Louisa continued:
"They deserve to succeed and I want to support these budding entrepreneurs by providing them with a no-frills self-directed home study eLearning course to help them get the fundamentals right and be able to position themselves for a long term sustainable business. These coaches and trainers need guidelines to help them work against negative self-sabotaging talks, distracting new trends and increasing competition around them."
The "Business Building Essentials" teaches only what is necessary and aims to reduce the sense of information overload and unnecessary confusion. It also lays out the processes the need to be done in the right sequence. Many times independent business owners read about a trend and they try to implement it but doing it in the wrong order will only waste time and resources.
"Working on only the essentials and in the right order allows business owners to quickly set up a framework so they can focus on building assets and not be bogged down by the nice-to-haves. Those who are new to operating their own business or who have not been able to get much result will find this course a valuable guide and asset.
In the spirit of giving around the time of Christmas, Louisa Chan is offering this newly designed "Business Building Essential" home study training at 51% off until the 30th Dec 2013. This is to encourage budding entrepreneurs to take up the challenge of starting a business with a firm and holistic foundation so they stand a higher chance of success.
This is in line with Louisa's desire to help heart-centered coaches, trainers and teachers startup and own their personal online business so they can live their passion and have the time and financial independence to pursue the visions they care about.
Details about the Business Building Essentials Home Study Training can be found here at http://www.LouisaChan.com/business-building-essentials-training/.
About This Training:
The training includes

Actionable strategies laid out in simple language
Practical guideline on reframing mindsets for maximum success
Insiders Tips on what needs to be focused on now to get the most results
About Louisa Chan
Louisa Chan is a highly sought-after business coach and trainer who has consulted with big brands and multinational companies in various countries across Asia. Louisa now helps conscious coaches, trainers and independent entrepreneurs grow successful heart-centered businesses through effective online marketing.
Currently based in Kuala Lumpur Malaysia, Louisa holds face-to-face corporate training events as well as online coaching and consultation for business owners worldwide. Visit Louisa Chan's website at http://www.LouisaChan.com for more information.