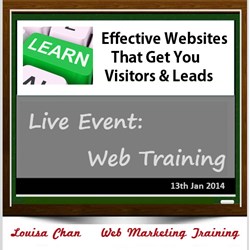 If your website is not attracting or acquiring new clients... it is an expense and not an asset.
Kuala Lumpur, Malaysia (PRWEB) January 08, 2014
Marketing expert and business consultant Louisa Chan today announces the launch of a new series of web training for the self employed, coaches, trainers and freelancers on the fundamentals of effective, marketing-centric websites. The training, which commences on Jan 13, 2014, will demonstrate the importance of having websites that attract and acquire new clients and will be conducted via live event training on Google Hangout on Air – more information can be found at http://www.LouisaChan.com/effective-websites-that-capture-leads-training.
In a recent survey by Statistic Brain and the U.S. Census Bureau, 75% of more than 14-million businesses surveyed had no website (Source: Statistic Brain). While this number represents a significant amount of businesses missing opportunities to connect with new clients online, of the businesses that do have websites many are still struggling to attract and retain website visitors. Louisa Chan observed:
"With more people accessing websites through mobile devices and tablets it is crucial for website owners to focus on user experience and not just the site's visuals, or risk losing visitors who lack the patience to wait for the long loading times of elaborately designed websites."
Business owners contemplating a new website or a website makeover often fail to consider what the site is supposed to accomplish, or how to use their site to attract and acquire new customers. Instead, they tend to focus too much on aesthetic elements, rather than building purpose-driven websites. Louisa commented:
"Effective marketing-centric websites make a great first impression on web visitors instead of appearing boring and confusing." Louisa continued: "Visitors landing on good websites are more prone to take desired actions, like calling the business, signing-up to receive newsletters and updates or making a purchase."
According to Louisa, a website is the business' most essential online asset. And it is not enough to have a flashy or even costly website if it does not serve its purpose, if it lacks the basic functionality to attract visitors and keep them coming back. She added:
"If your website is not attracting or acquiring new leads or clients, it is an expense and not an asset."
Louisa explained that, fortunately, there are simple and easy-to-implement changes that independent businesses can make to get their websites working harder for their businesses.
Speaking about her incentive for launching the upcoming training series, Ms. Chan said:
"After receiving constant enquiries on the topic, I have decided to share the same checklist that I normally reserve for my private clients in this coming free, live Google Hangout training session, which is aimed at helping freelancers, coaches and trainers understand what makes effective websites that capture online visitors' interests and attentions. It is my hope that individuals who are serious about building their online businesses will benefit from my experience and sharing through these open and interactive training sessions."
Louisa Chan's new live event training is part of her ongoing mission to equip coaches, trainers, teachers and the self-employed with the quality training they need to build healthy and authentic businesses and will include modules on how to:

Avoid common mistakes that immediately deter website visitors
Make a great first impression to keep visitors on your website
Connect with and engage new website visitors
Encourage people to take action and convert visitors into clients
Louisa's first training session will cover the fundamental criteria for effective, functional websites that attract new leads and customers. Free registration for the first training session, on January 13, 2014, is now open at http://www.louisachan.com/hangout-website-registration/.
About Louisa Chan
Louisa Chan is a highly sought-after business coach and trainer who has consulted with big brands and multinational companies in various countries across Asia. Louisa now helps conscious coaches, trainers and independent entrepreneurs grow successful heart-centered businesses through effective online marketing.
Currently based in Kuala Lumpur Malaysia, Louisa holds face-to-face corporate training events as well as online coaching and consultation for business owners worldwide. Visit Louisa Chan's website at http://www.LouisaChan.com for more information.