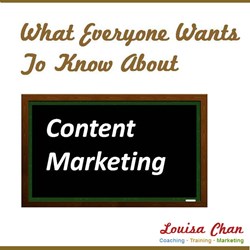 The online marketing space has changed … interruptive outreach marketing methods are not only getting less effective, but they can also work against you.
Kuala Lumpur, Malaysia (PRWEB) February 05, 2014
Business coach and author, Louisa Chan announces the launch of a new series of articles for prestigious online marketing magazine, "Online Footprint." The first article in the series discusses the growing importance of content marketing as a means of attracting and engaging prospects rather than using traditional interruptive strategies such as advertising – the article can be found in this month's edition of the magazine, available by subscription on iTunes or at or at http://OnlineFootprintMagazine.com/.
According to recent research published by the Content Marketing Institute and MarketingProfs, 93% of marketers are using content marketing in 2014. This incredible statistic speaks to the ever-increasing power of regularly publishing engaging, informative and useful content in order to attract new prospects and to engage and retain existing customers. Louisa Chan commented:
"The online marketing space has changed in recent years and now more than ever outreach marketing methods such as advertisements are not only less effective, but they can actually work against you, as they are seen as interruptive by your prospects." Louisa continued:
"You must allow your prospects to come to you on their own terms and, in order to do so, you need to offer them genuinely helpful advice and information."
People are inundated with marketing and sales messages online and that the only way to cut through this noise to generate interest and inquiries is to offer prospects educational and engaging content that speaks to their specific needs and concerns. Ms. Chan explains that by regularly publishing information that people are looking for, business owners can build their brand online, thus establishing trust and credibility. She said:
"Growing a credible digital presence is about more than just having a website. Clients only want to work with businesses that they know, like and trust – this is the kind of relationship that content marketing can help you to establish with your prospects and existing clients."
Louisa's new series of regular articles for "Online Footprints" marketing magazine is one of many ways in which she ensures that she implements this strategy in her own business.
As a renowned trainer and online marketing expert, Louisa Chan is expanding on the contents of her new article in an upcoming live training session to be conducted via Google Hangout on February 10, 2014.
"Content marketing is no longer optional for business owners and marketers seeking sustained online business growth," said Louisa. "In my upcoming training session, I'll show you how to use content effectively to grow your business with more of your ideal clients and to earn repeat business from loyal customers."
Louisa Chan's live event training session, entitled "What Everyone Wants to Know About Content marketing," will take place on February 10, 2014 and will cover the fundamentals of content marketing, including:

What content marketing is
What a content marketing strategy involves
Why publishing engaging content is important
Case studies of businesses using content marketing successfully
The live training event is now open for registration at http://www.LouisaChan.com/hangout-content-training/.
About Louisa Chan
Louisa Chan is a highly sought-after business coach and trainer who has worked and consulted with multinational companies in various countries across Asia. Author of a recently published book, "Teach Online: Multiply Your Talents" Louisa now helps teachers, coaches and trainers build heart-centered and rewarding online businesses using effective online marketing.
Currently based in Kuala Lumpur, Malaysia, Louisa conducts in-person corporate training sessions as well as online coaching and consultation for business owners worldwide. Visit Louisa Chan's website at http://www.LouisaChan.com for more information.