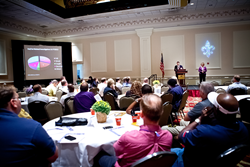 Baton Rouge, Louisiana (PRWEB) September 25, 2014
The sixth annual Louisiana Governor's Safety & Health Conference, produced by the Alliance Safety Council, provides a collective venue for information sharing, networking, and learning. This conference will take place October 6-7, 2014 at the Crowne Plaza Hotel in Baton Rouge.
The event kicks off Monday, October 6 with a presentation from keynote speaker, John Grubbs. Grubbs is an expert on generational change in the workplace. His ability to analyze and predict trends for talent attraction and retention has earned him audiences in the petrochemical industry, healthcare, manufacturing, education, government, and non-profit sectors. Grubbs will be delivering relevant, high-quality information to his audience. Tuesday's keynote speaker is Commander Kelly Sullivan. Over the last 25 years, he has leveraged his knowledge of the unique needs and demands of the oil and gas industry, along with his 21 years of military experience, into a successful career as an oil and gas industry consultant. He has provided consulting services for Exxon/Mobile, Shell, BP, Hess, Transocean, and Diamond Offshore. There will also be an Occupational Safety & Health Administration (OSHA) update during the lunch buffet on Monday, given by the local OSHA area director, providing essential, timely information to help organizations avoid costly citations and incidents that take an even more costly human toll.
With the opportunity to attend 30 sessions, conference attendees can explore topics that are crucial to assuring a safe workplace while earning continuing education units (CEUs). Attendees will get a chance to delve into various subjects such as complacency, quantifying risks, the new proposed OSHA standard, noise and vibration exposure, and emergency preparedness.
Outside of the sessions there will be 57 exhibitors from a variety of industries, ready to share knowledge and expertise about the latest tools and information for advancing safety, security, emergency preparedness, and health.
For more information and to register for the conference, visit http://www.thesafetyexpo.com.
#
The Alliance Safety Council is a 55-year-old nonprofit, member-driven association providing online and instructor-led safety training and related services for the metro Baton Rouge area as well as nationwide. Alliance has now supported 300+ industrial facilities in the region and trained 150,000+ students annually from every state in the nation as well as internationally for more than 1,300 contractor companies. For more information, visit http://www.alliancesafetycouncil.org.