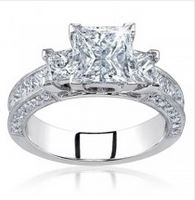 Among all of the issues noted by the article, the two that both buyers and sellers share the most common concerns with are the issues of "disclosure of information before sales" and "measures to prevent trade in conflict diamonds."
Los Angeles, CA (PRWEB) November 11, 2015
According to an article published October 14th by Rapaport, the recently formed United States Jewelry Council (USJC) has selected a leader in Ronnie VanderLinden, the current head of the Diamond Manufacturers & Importers Association of America. As noted by the article, the aim of the group is to be a voice "on key issues, such as those of social, ethical and environmental importance, that might impact the U.S. jewelry industry…." According to Los Angeles area diamond jewelry retailer Louis Saint Dupont, there are a number of important issues that both jewelry shoppers and store owners throughout the United States care deeply about. They explain that, among all of these issues noted by the article, the two that both buyers and sellers share the most common concerns with are the issues of "disclosure of information before sales" and "measures to prevent trade in conflict diamonds."

Information Disclosure – Louis Saint Dupont explains that in the diamond jewelry business, and in retail businesses in general, the best results occur when the customer has the most possible information about the product. In the case of their own diamonds, Louis Saint Dupont explains that they use independent certification from the Gemological Institute of America (GIA) to assure customers that the diamonds they are buying are actually of the quality and craftsmanship promised. Assuring that this system of verification is recognized and widely implemented is important both to jewelry store owners that care about transparency, and amongst shoppers who want to make sure that they are getting a great deal. Louis Saint Dupont explains that any actions taken by the USJC to promote and encourage these verification methods would be well-received.
Preventing the Sales of Conflict Diamonds – Louis Saint Dupont notes that another issue equally important amongst jewelry buyers and sellers is the assurance that none of the diamonds being traded were mined in an area torn by diamond-fueled conflict. Louis Saint Dupont explains that, although there are numerous methods to assure that diamonds are conflict-free, they choose to source their diamonds from mines in Canada, where there is obviously no such conflict to be concerned with. While the vast majority of diamonds being circulated today are conflict free, Louis Saint Dupont concludes that the USJC should aim to be proactive in supporting measures that push the number closer to zero.
Louis Saint Dupont explains that the industry as a whole is in a good place in terms of providing customers with diamonds that are GIA certified and conflict-free, but it is important that this positive trend continues. For more information about the wide selection of fine diamond jewelry available at Louis Saint Dupont, those interested can call the retailer at 800-806-3109 or visit it online at http://www.LouisSaintDupont.com.