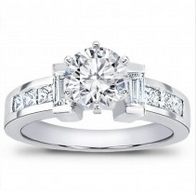 Louis Saint DuPont notes that some of the best, conflict free diamond jewelry is made in the USA using Canadian-mined diamonds.
Los Angeles, CA (PRWEB) August 19, 2015
According to an article published July 22 by CCTV America, more and more diamonds these days are being produced entirely in labs using synthetic materials. While the article notes that synthetic diamonds have been around for decades, they have recently grown in popularity as shoppers are deeming it more and more important that their diamonds are conflict-free. Yet, while the motivation to stay away from conflict diamonds is a moral imperative, the diamond jewelers at Louis Saint Dupont in Los Angeles note that "there are many other options for natural conflict free-diamonds that arguably also allow for a higher level of quality." They explain that many U.S. shoppers are unaware of the fact that Canada is one of the biggest producers of natural conflict free diamonds, and that many of the diamonds sold in stores like Louis Saint Dupont come from just over the northern border. In fact, Louis Saint Dupont notes that "some of the best, conflict free diamond jewelry is made in the USA using Canadian-mined diamonds."

Canadian Diamonds – "Anyone buying Louis Saint DuPont diamond jewelry can rest assured that what they are getting is made using only top quality GIA certified, conflict-free Canadian diamonds," the jeweler notes. Louis Saint DuPont also reminds customers that, although the Canadian diamond industry is relatively new, discoveries of new diamond mines in the last couple decades has placed the country among the top five diamond producing nations in the world today. In fact, adds Louis Saint DuPont, the first diamond mine outside of Africa operated by De Beers, one of the world's biggest diamond producers, was opened in the Northwest Territories of Canada in 2008.
Made in the USA – "Those concerned about the ethics of how their jewelry is made should also opt for pieces Made in the USA to ensure that no labor abuses are occurring," says Louis Saint DuPont. "Louis Saint DuPont engagement rings are individually crafted by U.S. artisans to fit a wide range of tastes and preferences using only the most sought after metals and elements." They also note that their assortment of designer pieces is available to anyone that truly wants an exceptional showpiece, or something to show off their style on a daily basis. "With trusted US craftsmanship", they say, "customers can be sure that what they are getting is exceptional from the surface to the core."
Thanks to countries like Canada, shoppers who go to stores like Louis Saint DuPont can get beautiful pieces of diamond jewelry made with diamonds that are both conflict-free and made naturally rather than in a lab. Anyone interested in browsing their selection of diamond jewelry can visit their Los Angeles showroom, or browse their selection online at http://www.LouisSaintDuPont.com. Shoppers can also get up to date information on pricing and availability over the phone by calling 888-316-0290.