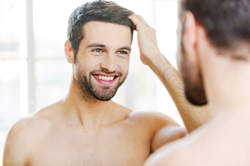 Louisville, Kentucky (PRWEB) December 13, 2016
Specialists at Calobrace & Mizuguchi Plastic Surgery Center (http://www.calobrace.com) perform hair transplant surgery using the automated NeoGraft system at their Louisville and Lexington, Kentucky locations for patients concerned about premature hair loss.
"Our practice is the first in Kentucky to offer the NeoGraft hair restoration system," Dr. M. Bradley Calobrace says. "NeoGraft is a game-changer for patients who want hair transplant surgery."
NeoGraft is considered a breakthrough because its computer-assisted handpiece uses pneumatic pressure to harvest individual hair follicles from the back of a patient's head. Hair on the back and sides of the head is genetically programmed to continue growing, even in a person with hair loss. Hair with this genetic programming is then meticulously implanted in the balding area.
Before NeoGraft came on the market, this technique -- called follicular unit extraction (FUE) -- was performed manually. It was effective, but quite tedious.
"We have a certified NeoGraft technician available at our plastic surgery practice in Louisville," Dr. Calobrace says. "Patients favor NeoGraft over other hair restoration techniques because it's the least invasive method available and it leaves no visible scars."
The alternative to FUE hair restoration is a technique called follicular unit transplantation, which is sometimes called the "strip method" because a narrow strip of the scalp is surgically removed from the back of the head. Follicles are then harvested from the strip. This method is less popular because it requires an incision, which results in a visible scar for men or women who want to wear their hair short.
The most common reason both men and women start going bald is a genetic condition called androgenetic alopecia (it's also called male pattern baldness when experienced by men). It typically affects the top of the head and occurs when a testosterone derivative called DHT attacks hair follicles, causing hair loss. Almost 50% of American men and about 20% of American women experience hair loss.
People who want hair transplant surgery are typically self-conscious about going bald, but until recently the hair restoration procedures available didn't produce satisfying results. NeoGraft has changed that.
"The days of 'hair plugs' that looked obvious and unnatural are long gone," Dr. Nana N. Mizuguchi says. "It is very difficult to determine whether someone underwent hair transplant surgery with NeoGraft. The hair grows in a natural direction and looks like natural hair — because that's exactly what it is."
###
Calobrace & Mizuguchi Plastic Surgery Center (http://www.calobrace.com) is a comprehensive surgical and non-surgical center, which includes the Calobrace Breast Center, the Calobrace Plastic Surgery Center, and the CaloSpa Rejuvenation Center. Both Dr. M. Bradley Calobrace and Dr. Nana M. Mizuguchi are certified by The American Board of Plastic Surgery and have received years of training in general surgery and plastic surgery. They have served as clinical instructors for University of Louisville's Division of Plastic and Reconstructive Surgery, and both perform a full range of treatments, including breast, body, and facial plastic surgery, for Louisville and Lexington, Kentucky, patients.