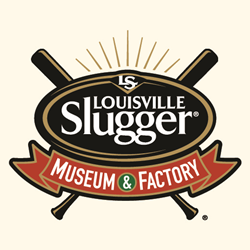 "This opens up our ability to market what is essentially a whole new product for us." ~Andrew Soliday, Marketing Director at Louisville Slugger Museum & Factory
LOUISVILLE, Ky. (PRWEB) May 17, 2023
Home to the thrilling stories swirling behind baseball wonders, Louisville Slugger Museum & Factory is swinging with the launch of an all-star new website. For almost three decades, Louisville's world-renowned attraction has seen over six million people bustle in through its doors. At the one and only Louisville Slugger Museum & Factory, there is nothing quite like that unforgettable crack of excitement — standout moments in history for the holding, a great-American classic step away.
Just last month, the museum titan finalized beautiful gallery renovations: the first in almost 15 years. It was time for online visitors to feel the striking crackle of wood chips flying through the digital air.
This iconic brand was seeking the kind of sleek, modern online presence to match its legendary stories. That's why Louisville Slugger & Museum Factory requested an engaging redesign from Hatfield Media; complete with a custom-built ecommerce system overhaul, set to uplevel the user experience by leaps and bounds.
"Hatfield Media is proud to have built a brand-new, custom ecommerce platform. Landing this triumphant milestone called for a major undertaking. Every piece — from the design to the data and the customer touchpoints throughout the shopping experience — had to be thought through carefully; designed with intention and created from scratch," says Senior Graphic Designer at Hatfield Media, Kaen Blevins.
One of the most magical moments that happens daily at the museum and factory: handing a guest a stunning bat all their own. Capturing that sense of exhilaration and awe, Hatfield Media's redesign brings to users the most advanced real-time bat customizer on the internet.
Andrew Soliday, Marketing Director at Louisville Slugger Museum & Factory, believes, "This opens up our ability to market what is essentially a whole new product for us. Never before have we had the ability to give total customization to our customers." Offering the chance to "create exactly what you want" on Slugger Gifts, so a user can spin their own souvenir baseball bats "is really remarkable," says Soliday.
"The Hatfield team has been fantastic. There's really no other way to put it. Their level of expertise is the reason I went with them as our designer for this new site," expresses Soliday, who shares, "The things that they managed to do in this period of time leading up to the launch — it's just a really robust, thoughtful, knowledgeable, unbelievable team."
"The new Louisville Slugger Museum & Factory website is the largest collaborative development project we have undertaken as an agency," notes Ray Tri, Director of Business Development at Hatfield Media, who highlights, "We were able to work with the museum's team to build a new website, on our modern content management and marketing system, that is natively integrated with BigCommerce's best-in-breed ecommerce platform. The possibilities this opens up for both the museum and Hatfield Media in terms of future capabilities is phenomenal."
"The new Louisville Slugger Museum & Factory store is a great example of an innovative merchant hitting a home run with our Open SaaS platform by seamlessly integrating key technologies to create a beautiful new site and experience for their customers," said Marc Ostryniec, Chief Sales Officer at BigCommerce.
About Louisville Slugger Museum & Factory
A premier attraction in Louisville, Kentucky, Louisville Slugger Museum & Factory has drawn over six million visitors within its storied halls. Displaying the world's largest baseball bat and a vault showcasing over 3,000 original bat models, Louisville Slugger Museum & Factory invites guests to feel the rush of celebrated baseball lore, nostalgia spinning as you adventure behind the scenes. This museum and factory takes attendees on a one-of-a-kind guide through over a century of classic American history. Families, schools, and groups discover award-winning tours, interactive exhibits, and personalized souvenirs — cheering for a rare chance to discover favorite teams and players up-close in a new light.
Please visit our new website for more information at https://www.sluggermuseum.com/.
About BigCommerce
BigCommerce (Nasdaq: BIGC) is a leading open software-as-a-service (SaaS) ecommerce platform that empowers merchants of all sizes to build, innovate and grow their businesses online. BigCommerce provides merchants sophisticated enterprise-grade functionality, customization and performance with simplicity and ease-of-use. Tens of thousands of B2C and B2B companies across 150 countries and numerous industries use BigCommerce to create beautiful, engaging online stores, including Ben & Jerry's, Molton Brown, S.C. Johnson, Skullcandy, Solo Stove, Ted Baker and Vodafone. Headquartered in Austin, BigCommerce has offices in London, Kyiv, San Francisco, and Sydney.
For more information, please visit http://www.bigcommerce.com or follow us on Twitter, LinkedIn, Instagram and Facebook.
BigCommerce® is a registered trademark of BigCommerce Pty. Ltd. Third-party trademarks and service marks are the property of their respective owners.
About Hatfield Media
Hatfield Media is a full-service creative digital marketing agency based in Louisville, KY. Delivering dynamic brand-building and advertising services, Hatfield offers everything from custom website design and development, graphic design, video production, commercial photography, social media management, and email marketing to powerful ecommerce integration and targeted digital ad campaigns. This team is proud to have served industries throughout Kentuckiana and surrounding areas for over twelve years — leveraging the latest in technology to drive authentic success, measurable growth, and high-quality results for all clients. Learn more about Hatfield Media at HatfieldMedia.com.