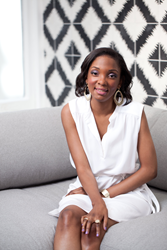 Love Bravely every day. ~ Tashawna
San Francisco, CA (PRWEB) August 14, 2015
To celebrate a brave young adult's 25th Birthday on August 28, 2015, a San Francisco team (Philanthropist Debbi DiMaggio and George Mark Children's House) is asking the public to send birthday cheers, cards and videos on social media to support Tashawna's "LOVE BRAVELY" Birthday Wishes.
Tashawna is a young adult, who is bravely facing a degenerative disease that has already taken the lives of her father and sister called Friedreich's Ataxia (a rare inherited disease that causes nervous system damage and movement problems with symptoms like ALS).
To stay positive, Tashawna loves to dance and refuses to let the disease take over her life, despite being in a wheelchair most of the time. She also often visits George Mark Children's House (children's hospice pediatric palliative care home in the San Francisco Bay Area), which is where her sister sadly passed away, to receive comfort and support.
Because Tashawna and Philanthropist Debbi DiMaggio both love fashion, Debbi hosted a fun Fashion Day for her in July, and is currently planning a special "LOVE BRAVELY" Birthday Party on Saturday, August 29, 2015, at George Mark Children's House.
During the Fashion Day for Tashawna in July, the community rallied to Make Fashion Dreams Come True. Make-up and hair styling was provided by Bounce Blowdry Bar, and Cuyana (Union Square) provided a luncheon, professional fashion photography shoot, new dress and accessories that made it a memorable and emotional day for all involved. Quentin Bacon also shot behind-the-scenes photography and Manut Buapet (Cuyana) was the professional photographer. Tashawna's Fashion Day Photos are available to the public.
For Tashawna's upcoming "LOVE BRAVELY" Birthday Party, special thanks also go to Tony's Slice House Restaurant for providing pizza. There will also be a "LOVE BRAVELY" wall for people to share birthday wishes, and display of birthday cards received from around the world.
To get involved, here are two ways the public can support Tashawna's LOVE BRAVELY Birthday Wishes:
1. Post Happy Birthday Tashawna Videos on Social Media (July 1 – August 31, 2015)
Everyone is invited to post "Happy Birthday Tashawna" videos on the George Mark Children's House Facebook page. You can film a short video on your smartphone, and/or post a montage of birthday wishes and use the hashtags #celebratelifeand #fashiondreamscometrue #lovebravely everywhere on social media.
2. Mail LOVE BRAVELY Birthday Cards to Tashawna (July 1 – August 31, 2015)
Everyone can also mail fashion and LOVE BRAVELY birthday cards to Tashawna at the George Mark Children's House (2121 George Mark Lane, San Leandro, CA 94578).
Philanthropist Debbi DiMaggio reflected on the Fashion Day and campaign, "Tashawna was patient and kind, grateful and graceful. She sat through hair and makeup and after they were done she was given a mirror just like Cinderella, and as she raised it to her face you could see the edges of her lips and cheeks bubbling up into a huge smile. It was nothing for me to make this day happen and I think it's meant the world to her. I'm very lucky to have had this opportunity to bring these events to life and extend a huge thank you to the team for helping create two memorable events - our fashion day in San Francisco and upcoming birthday party. My heart is heavy as I wish, nothing short of a miracle, a very happy 25th birthday to my friend and fellow fashionista Tashawna."
For media interviews, please contact:
Media Contact:
Liz Kelly
Goody PR
310-987-7207
About
Author, Real Estate Leader, Mom and Philanthropist Ambassador Debbi DiMaggio supports 5 childrens' charities in the San Francisco Bay Area, including George Mark Children's House. Debbi loves fashion, and her role model is Lady Diana, who also supported many childrens' charities. Debbi has written 2 books: Author of "Contained Beauty" (2012) and co-author of "The Art of Real Estate" with husband/partner Adam Betta (April 2015) http://bit.ly/theartofrealestate. Debbi's work has been featured in Inman News, Luxury Real Estate, KGO 810 Consumer Talk Radio Show, Oakland Magazine, and on KRON4 TV. Debbi uses her real estate success and client services/nurturing passions to make a difference. http://debbidimaggio.com.
About George Mark Children's House
George Mark Children's House (pediatric palliative care home) serves families with children and young adults who have a serious medical illness and who are seeking family-centered medical care that emphasizes quality of life in a compassionate, supportive atmosphere.) http://www.georgemark.org/ and on George Mark's Facebook.