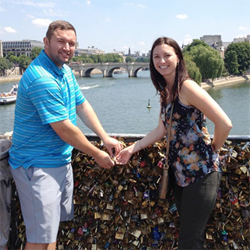 Our virtual Pont des Arts will serve as the new home for lovers to symbolize their eternal love.
TRINITY, Fla. (PRWEB) June 12, 2015
A Florida couple, Melissa and Eric Stone, has found an inventive way to help themselves and others combat the removal of their love lock from the world-famous Pont des Arts in Paris. After authorities began removing locks from the overburdened bridge on June 1, the Stones—who had placed their lock there in June of 2014—decided to take a virtual stand. Recently, the couple launched EternalLoveLocks.com to provide a safe place where people can commemorate their feelings of love forever.
"We put our lock up exactly one year ago, and now they are removing them all," says Melissa Stone. "It's our way of fighting back and trying to preserve the tradition."
Now couples from anywhere in the world can seal their love with a lock on the computer-generated Pont des Arts at EternalLoveLocks.com. The unique website was created to bring solace to lovers whose pad locks were recently removed from the bridge, as well as provide an opportunity for those who never had the chance to place a lock on the legendary structure. In either case, the virtual Pont des Arts will serve as a perpetual landmark of love for visitors worldwide. Essentially, EternalLoveLocks.com offers digital love locks that are placed on permanent exhibition to help people display their affection to the world. The locks come in a variety of styles and colors and can be personalized with names, dates, a message and even photos. Once people design their lock, they can select a location on the virtual Love Lock Bridge and come back and visit it whenever they want. "Our virtual Pont des Arts will serve as the new home for lovers to symbolize their eternal love," Stone says.
The inception of EternalLoveLocks.com is fitting, given the cybernetic connection of Melissa and Eric Stone. The couple met online through a dating website and later became engaged online after Eric proposed via a personal Will You Marry Me website. Now, Melissa and Eric are using their virtual experience to offer a new twist on an old tradition.
Through EternalLoveLocks.com, the Stones are helping to perpetuate a longstanding practice in Paris. For almost a decade, visitors from all over the world have been attaching pad locks with romantic messages to Pont des Arts. Many of them kissed their keys and tossed them into the Seine River below. This practice, which was thought to be charming by many, ultimately posed problems. Some sections of fencing on the Pont des Arts have crumbled under the massive weight of the thousands of locks left by tourists. Consequently, advocacy groups and others called for the removal of the locks in an effort to preserve their heritage sites. Once the locks have all been removed from Pont des Arts, artistic panels will be placed on the railings until permanent glass panels are installed.
However, rather than lament the loss of a love lock on the Pont des Arts, couples can now recreate their lock of love or design a brand new one at EternalLoveLocks.com—where it can remain forever. For more information, please visit http://www.EternalLoveLocks.com or contact Melissa Stone at 727-674-1741.
###