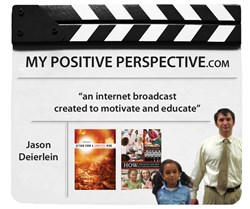 This has been a great way to combine businesses with great causes.
Charleston, SC (PRWEB) December 03, 2013
December 2, 2013, My Positive Perspective host Jason Deierlein who was a radio show on Kinetic Hifi was joined by another radio show host on Kinetic HIfi, Ben Toy. Toy hosts a radio show called Love, Bent and Adventure Bound. Deierlein's first question to Toy was, "How long have you been doing the show and what gave you the idea to com e up with the name of your show?" Toy answers the question, "I started my show at the same time you stated your show, January 2013. When the show began, I was joined by Ben Marley and we were brainstorming a name for our radio show that brought together dating, adventure and living on purpose." Toy continues, "The actual name came from a song called, Hell bound and whiskey bound."
Deierlein then asks Toy, "What has been the purpose and format of your radio show?" Toy answers, "Ben Marley used it as a platform for interviewing people; he has been in the process of writing a book. I on the other hand have used the show as an avenue to reach out to businesses. We often do hand outs to call in listeners that may feature local businesses. It has been a great way to combine businesses with a local medium such as a radio station."
As a conclusion to the episode, Toy says, "We have interviewed some memorable local people including some kite surfers, some fly boarders, travelers. In general, folks that live on purpose." Deierlein then asks Toy, "When is your radio station on?" Toy replies, "The show is on Kinetic Hifi Mondays from 8 to 10 p.m."
My Positive Perspective is a media outlet believing that improvement in our community will be best achieved by focusing on the good things happening in our world today. Having survived a near fatal car accident as a youth, a shift of perception forced one to have a mentality of always concentrating on the brighter sides of things. This was true, and in my book, Return From a Comatose Mind, this belief was put to the test. Appreciation for life was the biggest thing one took away from my brush with death, and it is because of that gives me such a huge desire to be helpful to many. My Positive Perspective is a way of overcoming challenges through positive thinking.