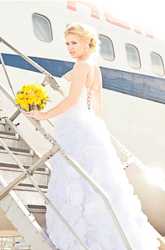 With the rise in destination weddings, some couples are opting to have the ceremony mid-flight on a private jet.
FORT LAUDERDALE, Fla. (PRWEB) February 11, 2020
This Valentine's Day, private jet charter provider Monarch Air Group and Busy Bee's Events are taking romance to the skies by announcing an ongoing partnership to provide in-flight private jet weddings. Private jets have long been associated with romantic gestures, but with the rise in destination weddings, some couples are opting to have the ceremony mid-flight (which also allows for curated celebrations in multiple cities, or just a chance to enjoy a more intimate ceremony and start the party sooner)!
Joint wedding planning and private jet expertise allow for fully streamlined, yet fantastical in-air weddings with extensive florals, high-end catering, live music, and photographers and videographers who specialize in capturing the luxe private jet experience. Private Jet Weddings are available upon request for one-way and round-trip private charters around the world, with popular romantic flight routes encompassing all major cities, wine country, and beach destinations.
Suggested catering and special touches for your in-flight wedding include:

Floor to ceiling florals, including a special floral archway for photo opportunities while boarding and exiting the aircraft;
Wedding cakes or trendy dessert alternatives perfect for the size of the galley of your heavy jet;
A private jet wedding photographer and videographer with an extensive portfolio of romantic visuals captured on private planes;
An officiant who embodies your spiritual philosophy and can advise on legal requirements in the state above which you marry;
A custom video or playlist for the in-flight entertainment system — or even a live in-flight accompanist for the ceremony.
Both Monarch Air Group and Busy Bee's are devoted to a curated experience, from arranging ground transportation to coordinating with honeymoon hotels to ensuring that every detail is perfect on the aircraft for your big day. To inquire about available aircraft, wedding packages and booking information, contact Monarch Air Group at +1-954-359-0059 or fly@monarchairgroup.com.
THE FINE PRINT: All bookings subject to signed contract and aircraft availability.
ABOUT MONARCH AIR GROUP: Established in 2006, Monarch Air Group is a leading provider of global, on-demand private jet charters. Among Monarch's customers are Fortune 500 corporations, small and medium size companies, private families, leading entrepreneurs, government agencies and world leading NGOs.
ABOUT BUSY BEE'S EVENTS: Busy Bee's Events is a 5-star full service event planning firm based in the South Florida region. We treat each wedding and event as if it was our own. From the moment you start planning to saying "I Do," Busy Bee is there every step of the way. We know your wedding is extremely important which is why we take extra special care of the whole planning process and always maintain constant communication. After working with top vendors and venues all throughout Florida, Busy Bee's offer a RANGE of planning packages tailored to fit your dream event and its budget. What separates us from the rest is that we not only provide a planner, we also provide: a personal shopper, a negotiator, an organizer, an accountant, a budget analyst, and even a friend all wonderfully wrapped into one event planner. From concept to completion, anywhere from venue selection to a very detailed timeline on the day of, consider your special event a flawless affair not to be missed!