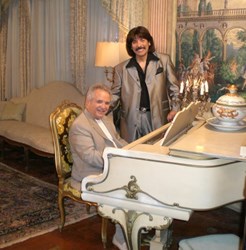 Shawn Rae's sultry baritone voice, music and lyrics together provide listeners with a compelling desire to renew their faith in love. It lets the audience know that when one is open to love, "Love Is What Happens"
(PRWEB) August 22, 2013
"Love Is What Happens" is an original song sung by Shawn Rae that inspires one to embrace the possibilities that can be brought about by chance. The song communicates the unexpected romantic encounter between a man and a woman, both caught by complete surprise. In today's romantic environment of cynicism towards love it is a refreshing break to find a melody that lifts up the heart, providing an unexpected tribute to love. The lyrics resonate with authenticity when sung with Shawn Rae's sultry baritone voice. The music and lyrics together provide the listener with a compelling desire to renew their faith in love. It lets the audience know that when one is open to love, "Love is What Happens".
The arranger of this song is Charles Calello, who has the proud reputation of creating 38 top ten hits with many great artists. He is the man who has guided the great to be greater. Calello has worked with musical icons such as Frank Sinatra, Ray Charles, Neil Diamond, Stevie Wonder, Bruce Springsteen and many, many others. Calello has described Shawn as "charismatic, bright, innovative, courageous and certainly in a class by himself." He describes Shawn's voice by stating that it has "rich lustrous and euphonious qualities, incredible range and depth, giving the songs that Shawn chooses a sensual and romantic quality". Shawn has brought his many years of musical expertise and performance with him in this collaboration with this world renowned musical arranger which will enchant audiences listening to his smooth vocals. (Shawn Rae Music Promo: http://youtu.be/htU_ZUDU994).
Shawn Rae was raised until the age of 18 in the foothills of the Himalayan Mountains, inheriting from both of his parents a remarkable lineage of Christian, Hindu, Sikh, Muslim, Jewish, Tibetan, and Chinese ancestry. According to Shawn, "A unified humanity can collectively resolve problems… Divided, we only serve to create them." Further, Shawn sees, "The challenge is individually and collectively to awaken our true potential for goodness and greatness, and to realize that positive change begins with us."
In all of Shawn's products and other endeavors, Shawn is committed to share in royalties and to dedicate his time and effort in promoting and supporting causes that are in the service of alleviating homelessness, hunger, disease and despair.
For more information: Shawn Rae Video Biography 2013: http://youtu.be/jBt9I3g362Q or http://www.ShawnRae.com