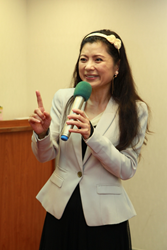 Being married drives an individual to perform better in every aspect of life
Los Angeles CA (PRWEB) December 04, 2014
Over the years, research has consistently shown that people who get married increase their chances of a long and happy life.
A recent study published in the Journal of Epidemiology and Community Health indicated that people that had never been married were 58 percent more likely to have a shorter life span than those who were married, with other conditions being equal.
"Being married drives an individual to perform better in every aspect of life," explained marriage and relationship expert Hellen Chen, the unorthodox matchmaker who is responsible for bringing together more than 100 individuals.
Some of the people she has worked with had lost faith in love and relationships, with some having given up on marriage altogether.
"When I finally managed to convince them to get married, it was almost as if I was watching a complete transformation take place right in front of me," said Chen with a smile.
This transformation seems to go beyond mere appearances.
A recent report by the U.S. Census Bureau revealed that married men generally earn higher salaries than men who are single. In addition, married women earned more wages than their single counterparts.
Chen revealed that she has had the privilege of watching the lives of many couples transformed over a period of time. They become more prosperous and even when they have babies, they are able to excel in their careers despite concerns that raising children could slow them down.
Chen's approach to matchmaking and marriage may be considered unorthodox, but the fact that Alvin Roth and Lloyd Shapley won a Nobel Prize proves that correct matchmaking is the way to go. The two economists from Harvard and the University of California were awarded for their work in applying the matchmaking process scientifically to medicine and job seekers.
"It just goes to show that men and women perform better in their careers as well as their health when they come together," said Chen.
In her book, "The Matchmaker of the Century", Chen gives real-life stories of the men and women she has brought together in her matchmaking endeavors. The book also seeks to debunk a lot of the myths surrounding marriage.
The book struck a chord with readers around the world and subsequently achieved bestselling status at Barnes and Noble in six categories, including self-help, self-improvement, relationships, and love and romance.
Chen will be hosting a Love Seminar in Los Angeles on December 27. She will be revealing the easiest way to find a soul mate without the heartbreaks of going in and out of relationships. She will also be sharing the secret of how to keep romance alive no matter how long one has been married. The event is open to both singles and married individuals.
For more information on Chen's events, please visit http://MatchmakerOfTheCentury.com/.