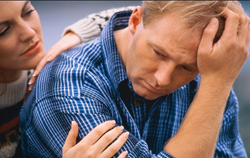 Once your spouse is employed again, you'll both look back at these dark days and feel the satisfaction of having gotten through it as loving, supportive partners.
Fort Lee, New Jersey (PRWEB) October 06, 2013
At a time when the government shutdown has sent thousands of furloughed federal employees to the ranks of the unemployed, it won't be long before affected private businesses are forced to do the same. Americans are facing another financial crisis that can threaten their ability to pay their mortgages, keep their electricity on and put food on the table. In the latest blog from Marble Media LLC's LoveComa.com titled, "Supporting Your Partner Through a Job Loss," guest blogger Liz Ernst offers couples some important reminders for getting through the stress of job loss without letting it ruin the marriage or relationship.
According to the Holmes and Rahe Stress Scale, job loss is in the top 10 of life experiences that can cause stress serious enough to trigger illness. Spouses and partners are also subjected to high stress levels when their life companion loses their job, which can easily lead to destructive friction in the home. Ernst offers tips for supporting the suddenly unemployed spouse through this stressful time in order to help restore their confidence and encourage them through the job seeking process.
It's only natural that the loss of a job can cause worries regarding a person's ability to pay their mortgage and bills, and put groceries in the house. Being in this situation can cause an immense sense of failure, fear and uncertainty.
"If your spouse loses his or her job, it's important to remember how heavily this is weighing on them and offer empathy, support and encouragement," Ernst says. "Of course you are also feeling stressed by their job loss, and you fear the impact it will have on your family, but it won't help anything to voice bitterness and worry; do what you can to reassure your partner and encourage them to get back in the game."
"It's so important to support your spouse or partner through this bump by providing positive, uplifting words of encouragement and love."
Quite often, marriages fail under the stress of unemployment and loss of income, according to Ernst. As bills pile up, tensions boil over and couples often begin to fight more frequently.
"It takes a concerted effort to reassure your spouse without adding fuel to their stress fire by constantly griping about your financial concerns," Ernst says. "Try to remember that your partner is fragile, and adding to his or her stress level could cripple their attempts to find a new job."
Ernst says it is also important to resist the urge to demand results at the end of each day of job hunting.
"If there's good news, you'll hear all about it soon enough," she says. "Let them come to you to talk about their job search, otherwise they might feel the added pressure of your grilling which can actually undermine their search.
"It's a tough time, but focus on being patient, loving and encouraging; once your spouse is employed again you'll both look back at these dark days and feel the satisfaction of having gotten through it as loving, supportive partners."
For more information, visit the LoveComa.com website or email info(at)lovecoma(dot)com.
About Marble Media LLC:
Marble Media LLC is a creator of high-quality, content-rich blog sites that provide expansive coverage of relevant information to readers who make up a wide range of demographics. The Marble Media LLC team of expert writers covers a wide range of specialties including travel, food, health, fitness, social media, marriage, parenting, technology, weight loss, fashion and much more.
For more information on Marble Media LLC's offerings and advertising opportunities, visit the MarbleMediaLLC.com website, or email sales(at)marblemedia(dot)com.