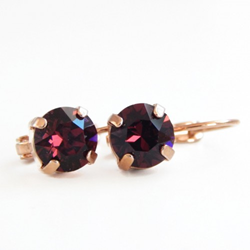 Our Marsala Crystal Lever Back Earrings will take the stylish woman effortless from spring into fall.
Redlands, California (PRWEB) April 09, 2015
LoveYourBling® (http://www.LoveYourBling.com), in partnership with The Artisan Group®, will be gifting its Marsala Round Crystal Lever Back Earrings to select members of the press at GBK's MTV Movie Awards Weekend Gift Lounge. The by-invitation-only Gift Lounge takes place April 10-11, 2015 at an exclusive location in Beverly Hills, California.
The Marsala Round Crystal Lever Back Earrings showcase Swarovski crystals in a rich burgundy shade that honors Pantone's Color of the Year, Marsala. The crystals have been hand-set into rose gold plated lever backs. The earrings measure about three-quarters of an inch long and retail for $27.00 at LoveYourBling.com.
Says Ruthie Youngman, designer and founder of LoveYourBling, "I was excited to be able to work these burgundy-hued Swarovski crystals into my earring design. They project a chic yet warm quality that will take the stylish woman effortlessly from spring into fall."
LoveYourBling jewelry has been worn on some of television's hottest programs. Actress Brandi Burkhart (as Crickett) wore the company's Rose Gold Crystal Dangle Earrings in Episodes 316 and 409 of the CW Network's Hart of Dixie and Emily C. Chang (as Ivy) wore a pair of Trinity Earrings on episode 605 of The Vampire Diaries.
The company's Vitrine Oval Crystal Cuff was on display and its Mint Green Square Crystal Lever Back Earrings were included in The Artisan Group celebrity swag bags at GBK's 2014 Golden Globes Gift, where its Crystal Cufflinks were also on display. At GBK's 2014 MTV Movie Awards Luxury Celebrity Gift Lounges, its Rose Gold Crystal Studs were a hit with members of the press.
LoveYourBling has been featured by INTERWEAVE in its "Create Jewelry Magazine," where Ruthie also contributed to the Design Tips section. Online marketplace Etsy has showcased the company's Alice in Wonderland Tea Cup Necklace on its Front Page. Read more LoveYourBling press here.
Individuals who would like to learn more about LoveYourBling can contact Ruthie Youngman by email using the contact author button on the right .Become a fan on Twitter, Pinterest, Instagram (@loveyourbling) and Facebook (@loveyourbling1). Shop LoveYourBling at LoveYourBling.com and LoveYourBling.etsy.com.
For more information about The Artisan Group, visit theartisangroup.org.
ABOUT LOVE YOUR BLING
LoveYourBling® (http://www.LoveYourBling.com) by Ruthie Youngman melds the designer's passion for art, fashion and collecting vintage tea cups, Swarovski beads and miniature toys. The result is eye-catching jewelry for all occasions. Equal parts vintage glam and minimalist modern, Love Your Bling represents easy-going, classic style with flair.
LoveYourBling is a Swarovski Crystal Elements Partner and a member of The Artisan Group®.