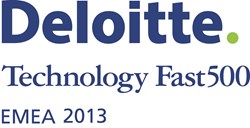 Our success is the result of hard work, tenacity and belief, and we remain excited by the opportunities that lie ahead.
(PRWEB UK) 3 December 2013
Having already been ranked 5th in the Deloitte Fast 50 UK, London-based Lovestruck.com has been listed at 52nd place in the Deloitte Fast 500 EMEA – the fastest-growing European, Middle Eastern, and African technology companies.
Now in its 13th year, the annual Deloitte Technology Fast 500 EMEA program ranks the fastest growing public and private technology companies from 24 countries in the EMEA region, based on percentage revenue growth over a five-year period. Accounts submitted by Lovestruck showed a revenue growth of 2,658%.
"Ranking 52nd in the entire EMEA region demonstrates that we have made huge strides in a relatively short period of time – especially during challenging economic conditions," says Lovestruck's Executive Chairman Hugh Chappell. "Our success is the result of hard work, tenacity and belief, and we remain excited by the opportunities that lie ahead."
David Halstead, Deloitte Technology Fast 500 EMEA lead, Deloitte UK, commented, "Being one of the 500 fastest growing technology companies in EMEA is an impressive accomplishment."