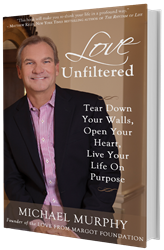 I was given the greatest gift any human being can receive- the gift of love, unfiltered, without any hesitation or constraint.
(PRWEB) September 16, 2014
Michael Murphy believes that unconditional love is the greatest gift one can receive, and he had that kind of love from his late wife, Margot. When she lost her nine-year battle with breast cancer, he felt he'd lost that love. However, through 'Love Unfiltered', his moving story of loss, redemption, and his relationship with Margot, Murphy shares his realization that love cannot die.
When Michael Murphy discusses Margot, he says, "... I was given the greatest gift any human being can receive- the gift of love, unfiltered, without any hesitation or constraint." Murphy's story is one full of universal human experiences such as overcoming fear, searching for meaning, and coping with grief. He boldly shares his journey, which includes running away as a teenager, battling alcoholism, and eventually overcoming these challenges to become a successful businessman. His passion for philanthropy began when he realized that serving others was a worthy and exciting purpose.
Murphy's life was never more touched, however, than by the presence of Margot. While 'Love Unfiltered', published by Next Century Publishing, is a motivating and helpful guide to finding one's own balance and fulfillment, its existence is due to her. She opened Murphy's heart, inspired his philanthropic work as well as this book; Murphy creates a loving tribute to her within it.
Says Murphy, "Love is infinite, and its only purpose is to be given, and amplified in the process. I learned love's lessons the hard way, but I am grateful beyond measure to be able to share them now with my readers." Proceeds from Love Unfiltered will go to benefit the Love From Margot foundation, which helps support low income women who have been diagnosed with breast cancer in the San Francisco Bay Area. More information is available at http://lovefrommargot.com.
Michael Murphy
Michael Murphy is the founder of the Love from Margot foundation in Oakland, California, which he created in 2012 in memory of his wife, Margot, to help those suffering from cancer and other life-threatening diseases. He funds the foundation through his work as president of the Volkswagen of Oakland, his job for the past seventeen years. He is a professional author, blogger, and speaker whose true passion in life is to serve and inspire others to serve. Mike has four beautiful children, and three amazing grandchildren. He loves to spend time with the clients of the foundation, practice bikram yoga, and travel.