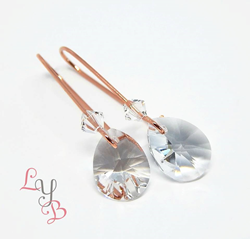 These versatile, go-to earrings are sure to be worn frequently.
Redlands, California (PRWEB) April 06, 2016
LoveYourBling (http://www.LoveYourBling.com), in association with The Artisan Group®, will participate in an exclusive celebrity gift lounge event hosted by GBK Productions, leading up to the MTV Movie Awards telecast. The Gift Lounge will take place on April 8-9, 2016 at an exclusive location in Los Angeles, California.
Founder/designer Ruthie Youngman's Rose Gold and Clear Crystal Petite Pear Earrings will be included in press swag bags prepared by The Artisan Group. These chic, pear-shaped earrings measure a little under one and a half inches long, including the ear wires.
"These versatile, go-to earrings are sure to be worn frequently," remarked Ruthie. "They are modern yet classic and I love their feminine style. I'm excited to show them off as a part of the MTV Movie Awards Gift Lounge."
The company's Painted Floral Earrings have been featured in the January 2016 issue of Bead Style Magazine. In partnership with The Artisan Group®, its Vintage Post Earring were included in press gift bags at GBK's 2016 Golden Globes Gift Lounge. Andi McDowell (as Olivia Lockhart) was seen sporting a pair of Floral Hand Painted Earrings on the Season 3 premiere of The Hallmark Channel's Cedar Cove. Actress Cathryn de Prune (Fargo) was photographed wearing LoveYourBling earrings at red carpet events and fashion shows during 2015 LA Fashion Week; the earrings were gifted to the actress at GBK's 2015 Golden Globes Celebrity Gift Lounge.
LoveYourBling jewelry has also been worn by Yara Martinez on the CW Network's Jane the Virgin, Brandi Burkhart on the CW Network's Hart of Dixie and Emily C. Chang on the CW Network's The Vampire Diaries.
LoveYourBling has been featured by INTERWEAVE in its "Create Jewelry Magazine," where Ruthie also contributed to the Design Tips section. Online marketplace Etsy has showcased the company's Alice in Wonderland Tea Cup Necklace on its Front Page. Read more LoveYourBling press here.
Individuals who would like to learn more about LoveYourBling can contact Ruthie Youngman by email using the contact author button on the right .Become a fan on Twitter, Pinterest, Instagram (@loveyourbling) and Facebook (@loveyourbling1). Shop LoveYourBling at LoveYourBling.com and LoveYourBling.etsy.com.
For more information about The Artisan Group, visit theartisangroup.org.
ABOUT LOVEYOURBLING®
LoveYourBling® (http://www.LoveYourBling.com) by Ruthie Youngman melds the designer's passion for art, fashion and collecting vintage tea cups, Swarovski beads and miniature toys. The result is eye-catching jewelry for all occasions. Equal parts vintage glam and minimalist modern, Love Your Bling represents easy-going, classic style with flair.
LoveYourBling is a Swarovski Crystal Elements Partner and a member of The Artisan Group®.
ABOUT THE ARTISAN GROUP
The Artisan Group® (http://www.theartisangroup.org) is a premier entertainment marketing group dedicated to representing small business artisans at the best celebrity gift lounges and press events. The organization provides a collective sampling of handcrafted products to celebrities and members of the press at top luxury gift lounges such as those leading up to The Academy Awards, The Golden Globes, The MTV Movie Awards and The Primetime Emmys.
The Artisan Group also coordinates product placement of its member's handcrafted products on such hit television shows as The Voice, The Vampire Diaries, Days of Our Lives, The Young & The Restless, Modern Family, Jane The Virgin and Law & Order: SVU, among others. Membership in The Artisan Group is juried and by invitation only.