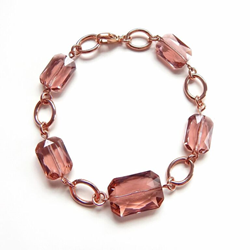 This bracelet pairs beautifully with many colors.
Redlands, California (PRWEB) December 29, 2015
LoveYourBling® (LoveYourBling.com) has had its Blush Crystal and Rose Gold Bracelet worn by actress Yara Martinez (Dr. Luisa Alver) on Episode 208 of the CW Network's primetime hit, Jane the Virgin. The episode aired December 14, 2015.
According to LoveYourBling founder and designer Ruthie Youngman, the bracelet was designed to be, "feminine and dramatic, in keeping with Doctor Alver's complex yet heart of gold character." The bracelet, which pairs beautifully with a range of fashion colors, showcases a collection of emerald cut SWAROVSKI® crystals in a soft blush shade, accented with rose gold plated links. It retails for $49.00 at LoveYourBling.com.
In partnership with The Artisan Group®, LoveYourBling's Vintage Post Earrings will be included in press gift bags at GBK's 2016 Golden Globes Celebrity Gift Lounge, which takes place January 8-9, 2016 at an exclusive location in Hollywood. Says Ruthie, "These earrings have classic, old Hollywood style and will quickly become a go-to favorite."
In other LoveYourBling news, the company's Painted Floral Earrings are featured in the January 2016 issue of Bead Style Magazine. Andi McDowell (as Olivia Lockhart) was seen sporting a pair of Floral Hand Painted Earrings on the Season 3 premiere of The Hallmark Channel's Cedar Cove. Actress Cathryn de Prune (Fargo) was photographed wearing Love Your Bling earrings at red carpet events and fashion shows during 2015 LA Fashion Week. The earrings were gifted to the actress at GBK's 2015 Golden Globes Celebrity Gift Lounge.
LoveYourBling jewelry has also been worn by Brandi Burkhart (as Crickett) on Episodes 316 and 409 of the CW Network's Hart of Dixie and by Emily C. Chang (as Ivy) on episode 605 of The Vampire Diaries.
LoveYourBling has been featured by INTERWEAVE in its "Create Jewelry Magazine," where Ruthie also contributed to the Design Tips section. Online marketplace Etsy has showcased the company's Alice in Wonderland Tea Cup Necklace on its Front Page. Read more LoveYourBling press here.
Individuals who would like to learn more about LoveYourBling can contact Ruthie Youngman by email using the contact author button on the right .Become a fan on Twitter, Pinterest, Instagram (@loveyourbling) and Facebook (@loveyourbling1). Shop LoveYourBling at LoveYourBling.com and LoveYourBling.etsy.com.
For more information about The Artisan Group, visit theartisangroup.org.
ABOUT LOVE YOUR BLING
LoveYourBling® (http://www.LoveYourBling.com) by Ruthie Youngman melds the designer's passion for art, fashion and collecting vintage tea cups, Swarovski beads and miniature toys. The result is eye-catching jewelry for all occasions. Equal parts vintage glam and minimalist modern, Love Your Bling represents easy-going, classic style with flair.
LoveYourBling is a Swarovski Crystal Elements Partner and a member of The Artisan Group®.