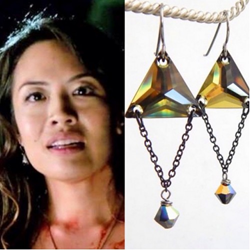 I love the way the lightness and sparkle of the crystals contrasts with the overall darkness of the earring.
Redlands, California (PRWEB) November 06, 2014
LoveYourBling® (http://www.LoveYourBling.com) is pleased to announce actress Emily C. Chang (playing character Ivy) wore its Trinity Dangle Earrings in the color way Tabac on episode 605 of The Vampire Diaries. The episode, titled "The World Has Turned and Left Me Here," aired Thursday, October 30, 2014 on The CW Network.
The wardrobe stylists for The Vampire Diaries selected the handcrafted Trinity Dangle Earrings for use after receiving them in a Stylist Gift Bag from The Artisan Group®. The Artisan Group is a California-based arts promotion and celebrity gifting organization, of which LoveYourBling designer/founder Ruthie Youngman is a member.
Ruthie handcrafted the Trinity Dangle Earrings using genuine Swarovski crystals in Tabac, an iridescent hue that changes from green to brown depending on the light. For added sparkle, the earrings are embellished with hand-wrapped AB crystals that hang from delicate black chains. The earrings measure approximately one inch long and have handcrafted oxidized sterling silver ear wires. They retail for $28.00. Consumers can purchase the earrings on the LoveYourBling website.
Ruthie says she chose to gift the Trinity design because she enjoys the way the lightness and sparkle of the crystals contrasts with the overall darkness of the earring. "I'm a huge fan of The Vampire Diaries, and I have always enjoyed how the writers juxtapose darker and lighter themes," she said. "With that in mind, I thought these earrings would be the perfect choice. It is an honor that the stylists selected them for Emily to wear."
LoveYourBling® is a Swarovski Crystal Elements Branding Partner. The 2014 Martha Stewart American Made Awards featured LoveYourBling as a nominee. INTERWEAVE featured a pair of the company's earrings in its Create Jewelry Magazine and asked Ruthie to contribute to the Design Tips section. Actress Brandi Burkhart (Crickett) wore LoveYourBling's Rose Gold Crystal Dangle Earrings in Episode 316 of the CW Network's Hart of Dixie. Other LoveYourBling designs are with the wardrobe stylists for New Girl and Parenthood for consideration of use.
LoveYourBling® has gifted jewelry designs to singer/actress Selena Gomez. The company recently participated in GBK's Luxury Celebrity Gift Lounges for the 2014 Primetime Emmy Awards, where it gifted a pair of Square Hologram Statement Earrings. The company has also gifted its jewelry designs to celebrities at GBK's Gift Lounges for the 2014 Golden Globe Awards and 2014 MTV Movie Awards. Etsy's blog TheStorque has done a feature on LoveYourBling. Etsy also showed the company's Alice in Wonderland Tea Cup Necklace on its Front Page.
As an Etsy seller and mom-preneur for nearly six years, Ruthie has received consistent positive feedback from her customers and has maintained a much sought after Etsy 5-star customer service rating. "I treat every customer the way I want to be treated," notes Ruthie. "I create each design with quality components and I keep prices affordable, so everyone can accessorize with a little bling." This approach has led to over 3,000 sales for LoveYourBling® on Etsy, with jewelry shipped internationally to over 30 countries.
Individuals who would like to learn more about LoveYourBling® can contact Ruthie Youngman by email using the Contact Author button on the right. Become a fan on Twitter, Pinterest and Instagram (@loveyourbling) and Facebook (@loveyourbling1). Shop LoveYourBling® at LoveYourBling.com.
ABOUT LOVEYOURBLING®
LoveYourBling® (http://www.LoveYourBling.com) by Ruthie Youngman melds the designer's passion for art, fashion and collecting vintage teacups, Swarovski beads and miniature toys. The result is eye-catching jewelry for all occasions. Equal parts vintage glam and minimalist modern LoveYourBling® represents easy-going, classic style—with flair.