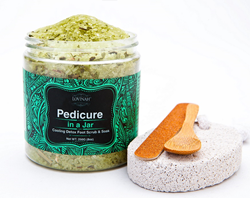 This foot soak is perfect for anyone that believes in loving their body, mind and soul from the inside out.
Houston, Texas (PRWEB) September 14, 2016
Houston-based Lovinah Supernatural Skincare (http://www.lovinah.com), in association with The Artisan Group®, will showcase on display and gift its popular Ocean Mineral Herbal Detox Foot Soak at GBK's 2016 Primetime Emmys Celebrity Gift Lounge. The Gift Lounge takes place September 16-17, 2016 in Beverly Hills, California.
Ocean Mineral Herbal Detox Foot Soak is a recent introduction to the Lovinah skincare lineup, but has already achieved bestseller status. Using ingredients like Epsom salts, seaweed and plantain leaves, it helps detoxify, refresh and stimulate circulation to rejuvenate tired, achy feet. A spa-size 8-ounce jar retails for $19.00 at http://www.lovinah.com.
Joy Ekhator, founder of Lovinah and the hands behind every Lovinah product, says, "We decided to gift our Herbal Detox Foot Soak because we know celebrities will be experiencing tired, sore feet after the Emmys festivities and will appreciate this quick and soothing remedy. Our Foot Soak is totally in line with our commitment to plant-based skincare, inspired by the scents, culture and beauty of Africa; it will be a great introduction to our brand."
She goes on to note, "This foot soak is perfect for anyone that believes in loving their body, mind and soul from the inside out. Foot baths are not superficial treatment, but a very powerful medicine that can help with serious conditions to promote good health and sooth achy, sore muscles."
Celebrities will find their Ocean Mineral Foot Soak beautifully wrapped and tucked inside The Artisan Group's branded black swag bag. The product will also be on display at The Artisan Group exhibit.
Joy is a computer programmer turned skincare mompreneur. She grew up in Nigeria, West Africa with her grandmother, who was into herbal medicine. Her grandmother's eco-friendly lifestyle and the challenges Joy faced with her own children's extremely dry skin inspired her to start a natural and organic skincare company promoting total wellness and beauty from the inside out, where every product is handcrafted using authentic, raw and natural ingredients, and always in small batches to ensure freshness and efficacy.
Following the Primetime Emmys, Lovinah Supernatural Skincare will be participating in My Beauty is My Heritage, which takes place October 22 in Houston, Texas.
"This event showcases the beauty and culture of Africa and brings together people of different cultures, from different parts of the world," said Joy. "I am excited to be involved in this event. The concept echoes my own discoveries during my travels to Africa, where the rich culture and raw beauty I saw inspired me to create exciting new products."
Lovinah Supernatural Skincare can be purchased at select boutiques and online at http://www.Lovinah.com. Joy is a proud member of The Artisan Group®.
Interested parties may contact Joy directly for further information about the company. Become a fan of Lovinah Supernatural Skincare on Facebook, Twitter, Instagram and Pinterest (@lovinahskincare).
For more information about The Artisan Group, visit theartisangroup.org.
Neither Lovinah Supernatural Skincare nor The Artisan Group is in any way associated with The Academy of Motion Picture Arts and Sciences, The Hollywood Foreign Press Association, MTV, or The Academy of Television Arts and Sciences.
ABOUT LOVINAH SUPERNATURAL SKINCARE
Lovinah Supernatural Skincare (http://www.lovinah.com) offers natural skincare products that are individually handmade with love to nourish the body from the inside out. Lovinah's elegant and cruelty-free products are inspired by the beauty of nature. At the core of each product are antioxidants that deliver top quality results using the highest quality natural and organic ingredients; because Lovinah cares deeply about its customers and what they put in their bodies and on their skin.
ABOUT THE ARTISAN GROUP®
The Artisan Group® (http://www.theartisangroup.org) is a premier entertainment marketing group dedicated to representing small business artisans at the best celebrity gift lounges and press events. The organization provides a collective sampling of handcrafted products to celebrities and members of the press at top luxury gift lounges such as those leading up to The Academy Awards, The Golden Globes, The MTV Movie Awards and The Primetime Emmys.
The Artisan Group also coordinates product placement of its member's handcrafted products on such hit television shows as The Voice, The Vampire Diaries, Days of Our Lives, The Young & The Restless, Modern Family, Jane The Virgin and Law & Order: SVU, among others. Membership in The Artisan Group is juried and by invitation only.