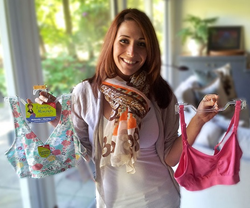 'Our comfortable, affordable maternity to nursing line at WalMart makes breastfeeding simpler. We are proud to partner with WIC and champion these moms along their breastfeeding journey.'
Cleveland, OH (PRWEB) August 04, 2014
Loving Moments by Leading Lady, a fun, stylish and affordable nursing and maternity line available in WalMart, is celebrating World Breastfeeding Week and supporting new moms by donating $15,000 worth of nursing bras to deserving women. Through this donation, Loving Moments is offering assistance to new moms who cannot otherwise afford nursing bras but are determined to breastfeed their babies. The nursing bras will be distributed by chapters of Women, Infant and Children (WIC).
"Loving Moments by Leading Lady offers support to new moms in every sense of the word," said Mark Corrado, third generation owner of Leading Lady. "Our programs, advocacy and resources give new moms the information they need to achieve their breastfeeding goals, while our comfortable, affordable maternity to nursing line at WalMart makes breastfeeding simpler. We're excited to celebrate World Breastfeeding Week by donating nursing bras to moms dedicated to breastfeeding, regardless of their income. We are proud to partner with WIC and champion these moms along their breastfeeding journey."
World Breastfeeding Week is an annual week-long celebration from August 1-7 designed to raise awareness for, promote and support breastfeeding across the globe. The theme this year, "Breastfeeding: A Winning Goal for Life!", reflects Loving Moments' sentiments about the lifelong benefits that breastfeeding offers both babies and mothers. Through partnerships with WIC and other breastfeeding advocacy groups, Loving Moments is working to create change and educate moms on how to nurture their babies through breastfeeding.
The donation of 1,100 nursing bras worth $15,000 will be distributed by 50 WIC offices around the country that were selected by sharing photos and nursing success stories like these:
"The biggest success that I have seen here in my clinic was a [new expectant mom] who I saw when I first took this position as a Breastfeeding Peer Counselor. She was determined to breastfeed, and I was determined to help her. She came to all her appointments, called every week, and when it was time for baby to arrive, she called. I was able to help her…to encourage proper latch…. We supplied her with a pump, and she did terrific. I could not be any prouder. I truly think that she helped me just as much as I helped her."
--Joanna , Breastfeeding Peer Counselor, TN
"One big success story at our clinic was a new mom who came in and said my mother couldn't breastfeed so I might not be able to but I want to try. She attended our support group while she was pregnant and went on to successfully breastfeeding for 18 months!"
--Jenna, Peer Helper, TN
Loving Moments will share more inspiring breastfeeding stories from WIC offices on Facebook throughout World Breastfeeding Week.
About Loving Moments by Leading Lady
Loving Moments by Leading Lady, available only at Wal-Mart® and WalMart.com, is the intersection of quality nursing essentials and an exceptional value.
Loving Moments features maternity and nursing apparel for every occasion, from pregnancy through nursing. Expecting and new moms can enjoy fun and fashionable maternity and nursing styles including playful nursing tank tops, comfortable and soft sleep and leisure bras, seamless t-shirt bras, expandable leggings and washable nursing pads.
With Loving Moments, shopping for nursing intimates is easier than ever at Wal-Mart and WalMart.com. As moms gather all of the essentials needed to welcome a new baby, their maternity-to-nursing wardrobe is just an aisle or click away. It's a simple as that.
More than just an intimates brand, LovingMomentsBras.com serves as a resource to new moms. The website offers a breastfeeding handbook and ongoing breastfeeding and baby tips, as well as product information and a sizing guide. Loving Moments strives to support moms and the breastfeeding community to raise awareness for the benefits of breastfeeding.
About Leading Lady
Leading Lady, a nursing and full figure intimate apparel company, has been dedicated to supporting women since 1939. Comfortable, functional and affordable bras, camis and sleepwear are always in style at Leading Lady.
Leading Lady's line of quality intimates are designed to fit real women and instill confidence. With styles ranging from soft lace to smooth cotton bras, underwire and wirefree t-shirt bras, sports bras and a variety of camis, Leading Lady meets the everyday lifestyle and wardrobe needs of full figure women and nursing moms.
With over 70 years of experience, Leading Lady manufactures nursing and full figure bras for top brands and retailers in North America, and can be purchased directly at LeadingLady.com.