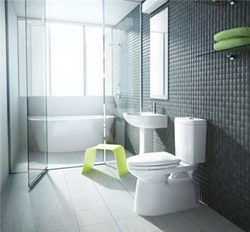 Many manufacturers are tweaking traditional designs to improve efficiency, while others are re-imagining the toilet entirely to maintain solid functionality while meeting and exceeding environmental standards.
(PRWEB) October 12, 2013
HomeThangs.com – the Online Home Improvement Store – has made their goal to deliver the right product to the consumer. With that in mind, shopping and home design tips, as well as special product selections are being introduced.
Many homeowners are still resistant to replacing old toilets with new, low flow models. But while there's a prevailing conception that low flow toilets don't work well, newer models come equipped with a variety of features that make them work more efficiently, even with significantly less water per flush.
HomeThangs.com has introduced a guide to some of these features (and why it's worth upgrading) for those holding on to older, inefficient toilets.
1. Glazing
With laws restricting the amount of water a toilet can use per flush, designers have had to find new, innovative ways to make toilets flush more efficiently. One of the most important improvements is actually also one of the simplest: using better glazing on more of the toilet. High quality glazing helps reduce friction, and when the inside of the bowl and the inside of the trap are both glazed, waste is much less likely to get stuck, and it can be fully flushed with much less water.
2. Larger Traps
Another simple change is that many modern toilets have slightly larger and simplified traps. Even a very slight increase in the diameter of the trap allows a much greater volume of solid waste to be flushed unimpeded, and having fewer sharp bends and turns makes the toilet much less likely to clog.
3. Larger Flush Valves
Making the flush valve a little bit larger is another way to get more mileage out of a smaller amount of water. Most toilets are powered by gravity, which means the force of the water falling down from the tank is what washes waste away. The larger the valve, the more water can fall at once, giving it more force than the same amount of water flowing out more gradually.
4. Better Bowls
But not all the changes to modern toilets are small ones. In fact, while many manufacturers are tweaking traditional designs to improve efficiency, others are re-imagining the toilet entirely. Inax is especially well known for their innovative toilet bowl design, which forsakes the traditional smooth interior for a deeply grooved surface and multiple water outlet valves. This design creates a swirling vortex of water that rinses down the sides of the bowl while increasing the flushing force of the water.
5. Dual Flush
One amazingly useful feature that almost no older toilets have, but that many modern toilets do, is dual flush functionality. The premise is simple: instead of one little flush handle, there are two flush buttons, one for a big flush and one for a little flush. This means every flush uses only as much water as needed, which can reduce a home's water consumption by up to 25% without reducing the effectiveness of the toilet.
6. Pressure Assisted Toilets
Finally, for a toilet that will really truly get the job done 100% of the time, consider opting for a pressure assisted toilet. These are the kinds of toilets typically found in commercial bathrooms. The tanks of pressure assisted toilets contain a small device filled with compressed air that blasts water down into the bowl when it's flushed, using the highest possible pressure to wash waste away and scour the sides of the bowl, leaving it totally clean even with only 1.6gpf. These models are noisier than typical residential models, but can be an excellent option for those with persistent clogging problems.
For more information about switching to a low flow toilet, read the full article here, or check out more modern toilets from some of our great brands, like Eago.
HomeThangs.com is not only a home improvement superstore, it also provides expert design tips and a comprehensive shopping guide, taking the ideas from professional interior designers, and offering tips to the consumers on how to pick the products to best suit their needs.