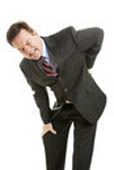 Dr. Allen's therapeutic devices provide the only effective natural lower back pain and sciatica relief without resorting to drugs, injections and surgeries.
London, GB (PRWEB) December 04, 2013
"There is controversy over prescribing opioid drugs for chronic conditions, such as arthritis, migraine or back pain. Opioids target the same brain receptors as heroin, causing euphoria," emphasizes Michael Miller, MD, from the Harvard Medical School, who is cited in the article 'The Problem with Painkillers' noting a high risk of addiction to these drugs with long-term use. At the same time, Dr. Allen's Devices are becoming increasingly popular among sufferers with chronic pain as they relieve lower back pain effectively, naturally and without any side effects, highlights Fine Treatment.
According to the article 'The The Problem with Painkillers' in Aetna InteliHealth, dated November 25, 2013, 'Opioid drugs such as oxycodone (OxyContin), hydrocodone (Vicodin) and meperidine (Demerol) are among the most powerful painkillers available, which are used both to treat severe acute (short-term) pain as well as various types of chronic (long-lasting) pain. Due to their addictive and health damaging nature, it is unacceptable to prescribe opioid painkillers over the long-term to sufferers with chronic back pain, comments Dr. Simon Allen.
Moreover, according to Howard Fields' report on 'The Doctor's Dilemma', supported by the National Institutes of Health (NIH), "While there is no debate over the short term use of opiates, their use for chronic non-malignant pain is controversial and there is growing reluctance among some physicians to prescribe them. The problem is that the most powerful opiate analgesics are also the most liable to cause abuse and addiction. Furthermore, although opiate analgesics are potent for a variety of time limited painful conditions, the duration of their efficacy has only been established for up to two months."
In contrast, Dr. Allen's Devices have been praised by the users. Hubert, 82, from England, has said, "This product will change your life". Another user Adam Mills, from Australia, says, "I have exhausted every form of conservative medical treatment available to obtain pain relief, but nothing worked. I have been using the device for lower spine treatment for the past 4 weeks, day and night, and I noticed a significant drop in pain level at the beginning of week 3. I have been able to do things that I normally wouldn't have been able to do."
Also you can watch this video showing how easy it is to use Dr. Allen's Device for lower spine treatment: http://www.youtube.com/watch?v=6WwI1TvlXOs.
"The Thermobalancing therapy relieves back pain within days, and works on chronic conditions over time successfully," says Dr. Simon Allen. "Dr. Allen's therapeutic devices provide the only effective natural lower back pain and sciatica relief without resorting to drugs, injections and surgeries."
For more information, please visit the Fine Treatment website: http://finetreatment.com/lower-back-pain-treatment-lumbago-relief/.
About Dr. Simon Allen and Fine Treatment:
Dr. Simon Allen, MD, PhD, Academician, member of ATA, is a highly experienced medical professional. His specialty is in the internal medicine. He has treated a wide range of chronic diseases, including patients after a heart attack, with kidneys problems, including kidney stones disease, prostate and spine conditions, as well as metabolic disorders. Fine Treatment exclusively offers Dr Allen's devices for chronic prostatitis and BPH treatment, coronary heart disease, dissolving kidney stones, as well as back pain and sciatica relief.