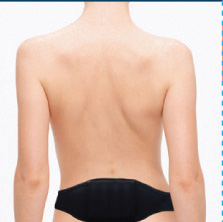 When Dr. Allen's therapeutic device is applied to the affected area, the users get profound pain relief within a short period of time.
London, UK (PRWEB) December 08, 2013
Chronic back pain is a devastating condition, thus people try to do everything in order to get relief, therefore different symptomatic procedures disabling the nerve, like recently proposed The Relievant technology, are in demand. At the same time, Dr. Allen's Devices relieve back pain without resorting to painkillers, injections or lower back surgeries, Fine Treatment reveals.
According to the article 'New option studied for treating back pain', in ABC-News, on December 6, 2013, Dr. Paul Slosar, directing the SMART trial at Seton Medical Center in Daly City, proposed to disable nerves inside the vertebrae that are responsible for transmitting pain signals.
"The Relievant technology is a radio frequency nerve ablation. It sounds very complex, but essentially it's a needle based treatment," explains Dr. Slosar.
'The procedure Radio Frequency Ablation (RFA) disables the nerve, and it may cause some side effects. There is a forum in the spine-health site where people share their experiences after RFA', comments Dr. Simon Allen. For instance, message at 'Burning pain after Radio Frequency Ablation to Neck' states, "Lastly, though it didn't solve my problems, it did give me some relief of pain. I still continued to have shoulder and sternum/thoracic pain. Now 1 year later, I'd give anything for the slight improvement....but the docs have moved on with other attempts to help me and now it is time for the neurosurgeon."
According to the article, 'Alternatives for Back Pain Relief', in The New York Times, by Gretchen Reynolds earlier this year, 'In the past 10 years, the most popular nonsurgical medical treatment for "chronic, nonspecific" low back pain has been injection therapy, or shots into the lower back. However, researchers from the Netherlands conclude that doctors "should not" recommend injection therapy to their patients with chronic low back pain.'
So, there is no reason to avoid treatment with Dr. Allen's Device that relieves back pain without side effects. Please watch this video on how easy it is to use Dr. Allen's device for lower spine treatment: http://www.youtube.com/watch?v=6WwI1TvlXOs.
"Thermobalancing therapy is the only way to support blood circulation in the affected area at the capillary level, improving the condition of the spine," says Dr. Simon Allen. "When Dr. Allen's therapeutic device is applied to the affected area, the users get profound pain relief within a short period of time."
For more information, please visit the Fine Treatment website: http://finetreatment.com/lower-back-pain-treatment-lumbago-relief/.
About Dr. Simon Allen and Fine Treatment:
Dr. Simon Allen, MD, PhD, Academician, member of ATA, is a highly experienced medical professional. His specialty is in the internal medicine and cardio-vascular field. He has treated a wide range of chronic diseases, including patients after a heart attack, with kidneys problems, including kidney stones disease, prostate and spine conditions, as well as metabolic disorders. Fine Treatment exclusively offers Dr. Allen's devices for chronic prostatitis and BPH treatment, coronary heart disease, dissolving kidney stones, as well as back pain and sciatica.