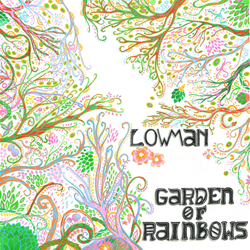 "Quite an entertaining collection of songs…you'll love what Lowman has created" - Deli New England
Boston, MA (PRWEB) March 20, 2014
Lowman releases "Garden of Rainbows"
with Nemes, Milkbread, and Big Bad Bobby and the Shoehorns
March 28th
Davis Square Theatre
255 Elm Street
Somerville, MA
doors 8pm, $12, 21+
tickets: http://lowman.ticketleap.com/
The four-man, indie rock band, Lowman, has created an intriguing and distinct sound and releases their latest album, "Garden of Rainbows." Lowman was formed by individually accomplished jazz musicians; the rhythms from Mike Connors (drums), the ambiance created by John Funkhouser (keyboards), and the improvisational jazz licks of Phil Sargent come together with the voice and groovy bass lines of Greg Loughman to wonderfully encapsulate the jazzy and rock sound, abundant with the improvisation that is second nature to these talented jazzers. Lowman has an affinity for jazz fueled solos and rhythms and the talent that goes along with it.
Frontman Greg Loughman says, "[Garden of Rainbows] is my attempt to combine all of the music I like into one internally consistent package; the raw power and exuberance of rock like Hendrix, the songcraft of Elvis Costello, Ben Folds, the nuance and improvisational acumen of Miles Davis, the otherworldly psychedelic explorations of XTC and the Beatles, updated to the sensibilities of Arctic Monkeys, Franz Ferdinand, etc." The members of Lowman work in excellent cohesion to realize the sound and vibe sought by Loughman, and achieve it in an innovative fashion.
"Garden of Rainbows" was produced by Greg Loughman and Warren Amerman (Paul Kowert, Crooked Still, Andy Pratt) recorded, mixed & mastered by Warren Amerman (Rotary Records).
You can learn more about Lowman at http://www.lowmantheband.com.
For more information, images, or to arrange for an interview, please contact Melissa Zeigler at Powderfinger Promotions: melissa(at)powderfingerpromo(dot)com.
Powderfinger Promotions–Independent Radio Promotion and Publicity. Since being founded in October 1994, Powderfinger has come to be regarded as a top indie radio promotion and publicity firm with ties across North America.