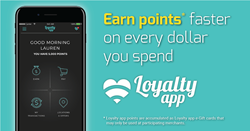 Loyalty app offers its users the ability to earn points on expenses like rent, where payments would typically become "dead money".
Perth, Western Australia (PRWEB) April 10, 2017
In a West Australian first comes a true multi partner app ready to shake up the rewards industry with its unique value proposition.
Loyalty app offers its members the ability to earn points on niche purchases such as paying rent, where payments would typically become dead money. Users can also share their favourite Loyalty app partner businesses and earn more points when their friends shop there too; plus paying with points is simple and transparent.
The rewards program app, available on iPhone or android, features no sign-up expenses for businesses, or cards to carry around for consumers.
Ronnie Elhaj, Founder of Loyalty app and WA's leading property group Nicheliving, says the program was developed to respond to consumers' frustration at not getting true value or transparency from their existing loyalty programs.
"The app is easy to use with clear and consistent value for customers and partners," Ronnie says.
"Some airline programs and supermarket schemes require a maths degree to figure out the best value and it is often very difficult to use your points!"
"In addition, recent changes by the RBA to credit card schemes mean these programs will struggle to compete on value."
"The technology focus of Loyalty app means it surpasses other programs with its focus on earning points and payments instantly with participating businesses."
Loyalty app is building a strong network of partners in the home vertical initially, with local merchants including West Coast Hi-Fi, Ford & Doonan, Nicheliving, Waldecks and Drovers Inside & Out already on board. For locals who are building and renovating, these partners provide them with an excellent opportunity to earn a high volume of points for their expenses where traditionally loyalty is for small ticket items.
"We're developing a strong base in Perth, providing a real opportunity for small to medium sized businesses to band together and reap the rewards of a multi partner program," Ronnie says.
Ronnie says the program will continue to add partners in areas that programs like Qantas & Flybuys neglect, plus a combination of big ticket expenses and every day household spend partners.
Over $1 million has been spent on the development of the West Australian app to date.
For more information on Loyalty app, visit http://www.loyaltyapp.com.au.