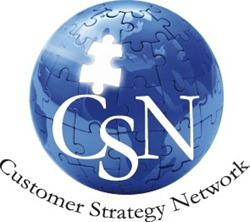 Career opportunities in the customer-marketing field are growing rapidly with no signs of slowing demand
Boca Raton, FL (PRWEB) September 16, 2015
The Customer Strategy Network (CSN) and The Wise Marketer jointly announce the launch of the Loyalty Academy, the first professional certification program for the loyalty and relationship marketing industry. The Loyalty Academy will kickoff with an exclusive one-day educational event to be held November 18, 2015 at the iconic Hyatt Pier 66 hotel in Fort Lauderdale, Florida.
The Loyalty Academy offers an advanced curriculum formed from the collective resources of The Wise Marketer and CSN Partners. Individual courses are delivered by seasoned practitioners, in both an online and in-person learning environment. The initial faculty team brings a global knowledge base to The Loyalty Academy and has developed a progressive set of training modules that reflect where the industry is today and where it is headed.
Mike Atkin, CSN Chairman, described the importance of the Loyalty Academy, saying "There has never been a more important time to build proficiency in Loyalty and Relationship marketing. Chief Marketing Officers recognize the critical implications of customer-facing strategies for their brand, and the complexities in getting the job done right."
The Loyalty Academy inaugural event provides a venue to learn best practices, latest trends, practical methods, even secrets of Customer marketing in an environment designed to be a "competitive free zone". Attendees will learn from the assembled group of global practitioners, while also earning valuable credit hours towards their Certified Loyalty Marketing Professional (CLMP) degree.
Peter Clark, CEO Wise Marketer, commented on the value the Loyalty Academy brings to brands, saying "Career opportunities in the customer-marketing field are growing rapidly with no signs of slowing demand. We believe the Loyalty Academy is well timed and the curriculum will be in high demand given the lack of any disciplined, certification program in this important industry."
Michael T. Capizzi, longtime loyalty educator, writer, speaker and a CSN Partner, has been named to lead the Loyalty Academy as Director of Education. A full curriculum and all requirements for the CLMP degree program will be announced at The Loyalty Academy event on November 18, 2015. Visit LoyaltyAcademy.org for full conference details and enrollment information.
About Customer Strategy Network (CSN)
The Customer Strategy Network is a membership organization composed of independent Loyalty Marketing & Customer Relationship Management practitioners. CSN Partners represent multiple geographic markets worldwide including the UK and EU, North America, Latin America, Caribbean, Australia, India, Middle East, Philippines, Russia, South Africa, and New Zealand. For more information visit http://www.customerstrategynetwork.com.
About The Wise Marketer
The Wise Marketer is the most widely read news source for Customer and Loyalty marketing in the world, and covers the industry at a global level. Peter and Robin Clark have developed this resource over the past 20 years and publish The Loyalty Guide, the only comprehensive Loyalty reference guide available today. For details visit http://www.thewisemarketer.com.