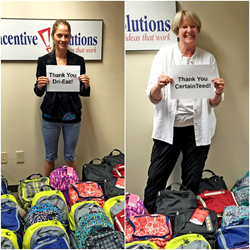 This year, we doubled the amount raised during the first year due to increased client participation.
Atlanta, Georgia (PRWEB) August 05, 2015
At Loyaltyworks, an Atlanta-based incentive program provider, client partnerships are not only fruitful in business matters, but in community involvement, as well. Loyaltyworks' participation in the Agape Atlanta Great Backpack Giveaway was incredibly successful this year, largely thanks to client donations.
Each year, Agape Atlanta gives away new backpacks filled with school supplies for the students of all grades in economically-disadvantaged areas of Atlanta. "For eight years now, Agape Youth & Family Center has been able to serve close to 7,500 of Atlanta's kids through the Great Backpack Give-Away," says Chaz Chapman, Event Coordinator for Agape Atlanta, "where they get the chance to receive new backpacks full of school supplies…Ultimately, this event is an easy opportunity for us to make a large impact in our community and beyond." Loyaltyworks became contributors to the Agape Great Backpack Give-Away last year.
The 2015 Loyaltyworks backpack drive lasted from June 15th to July 15th. During this time, they encouraged employees and clients to donate points earned from their online reward programs in order to sponsor backpacks. All in all, Loyaltyworks was able to raise funds to purchase over 75 backpacks. Ashley Lodge, head of the Loyaltyworks Care Committee, says that the company increased participation and backpacks sponsored since last year. "This year," she says, "we doubled the amount raised during the first year due to increased client participation."
Among the clients charitable enough to donate points to the cause were CertainTeed, a Saint-Gobain subsidiary company specializing in exterior and interior building products. Legend Brands, provider of cleaning and restoration products for professional contractors, , also contributed to the fundraiser. These clients' involvement helped make the backpack giveaway one of Loyaltyworks' most successful charity events. The initiative of organizations like Agape Atlanta, along with the generosity of companies like CertainTeed and Legend Brands, help improve the local community and ensure that the Atlanta area flourishes.
About Loyaltyworks
Based in Atlanta, GA, Loyaltyworks is part of The ISI Group (comprised of Incentive Solutions, Loyaltyworks and Travel Solutions), and provides online incentive programs and technology to help our clients track sales channel distribution, increase sales, foster customer loyalty, and instate employee reward programs.
The ISI Group purchased Loyaltyworks, a 30-year-old loyalty and recognition business, in 2009. To offer a better incentive solution to clients, Loyaltyworks now manages all of their reward programs with an online point-based merchandise reward platform. The platform is a flexible reward program management solution that offers point-based merchandise programs as well as reloadable or one-time funded prepaid debit cards.
Loyaltyworks
1-866-567-7432
2299 Perimeter Park Drive, Suite 150
Atlanta GA 30341