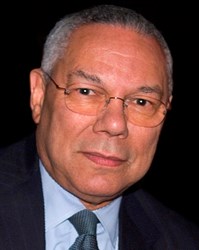 "Gen. Powell's journey to becoming chief diplomat for the U.S. is the mark of true leadership, vision, and appreciation for shared values, all virtues we are committed to upholding as a Jesuit university." - Loyola President Rev. Brian Linnane, S.J.
Baltimore, MD (PRWEB) August 20, 2013
General Colin L. Powell, USA (Ret.) will deliver Loyola University Maryland's second Hanway Lecture in Global Studies on Tuesday, Oct. 22, 2013, at 7 p.m. in Reitz Arena. The event is free and open to the public, but tickets are required.
Powell has devoted his life to public service for more than 50 years. In his senior military and diplomatic positions across four presidential administrations, Powell's deep commitment to democratic values and freedom has made an impact across the world.
"We are honored to welcome General Powell to Loyola for our marquee lecture series on global awareness," said Rev. Brian F. Linnane, S.J., Loyola's president. "His unique journey to becoming chief diplomat for the United States is the mark of true leadership, vision, and appreciation for shared values both at home and abroad, all virtues we are committed to upholding as a Jesuit university. General Powell's understanding of the global challenges and opportunities facing America evolved throughout his distinguished career, and I'm confident the tremendous wisdom he gained through years of discernment will be inspiring to our community."
In 1958 Powell received a commission as an Army second lieutenant upon graduation from the City College of New York and went on to serve in the United States Army for 35 years, rising to the rank of Four-Star General.
He served as President Ronald Reagan's National Security Advisor from 1987–89 and Chairman of the Joint Chiefs of Staff for both President George H.W. Bush and for President Bill Clinton from 1989–93. He was not only the youngest officer and first ROTC graduate to ever serve in the position but also the first African American to do so. During his time as Chairman, he oversaw 28 crises including the Panama intervention of 1989 and Operation Desert Storm. Under President George W. Bush, Powell was appointed the 65th Secretary of State and went on to lead the State Department in major efforts to address and solve regional and civil conflicts overseas. He worked at the forefront of American efforts to advance economic and social development worldwide.
His numerous U.S. military, civil, and international awards include the Defense Distinguished Service Medal (with 3 Oak Leaf Clusters), two Presidential Medals of Freedom, and an honorary knighthood bestowed by H.M. Queen Elizabeth II of Great Britain.
Currently, Powell is a strategic limited partner at Kleiner Perkins Caufield & Byers, a Silicon Valley venture capital firm, and is on the board of Bloom Energy. He is also the chairman of the Advisory Board of Leeds Equity Partners, a private equity firm focused on investments in the education, training, information and business services industries.
His two books, both bestsellers, are his autobiography, My American Journey, and the more recent It Worked For Me, which explored the lessons that shaped his life and career.
The son of Jamaican immigrants, Powell was born in Harlem in 1937 and was raised in the South Bronx. He is married to the former Alma Vivian Johnson of Birmingham, Ala. They live in McLean, Va., and have three children and four grandchildren.
The Hanway Lecture in Global Studies is an endowed lecture series made possible by a gift from Ed Hanway, a member of the University's Class of 1974 and current chair of its Board of Trustees, and his wife, Ellen. The inaugural lecture was held in April 2013 and featured Tony Blair, former Prime Minister of Great Britain and Northern Ireland.
Ticket info
Members of the Loyola community will have the opportunity to obtain tickets in September. Tickets for the general public will be released in October pending availability.
More information on ticket release dates and instructions for obtaining tickets can be found on the Hanway Lecture in Global Studies webpage.