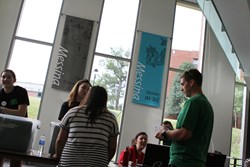 Baltimore, MD (PRWEB) September 04, 2013
Loyola University Maryland has launched Messina, a unique living learning program designed to help first-year students adjust quickly to college-level work and forge a clear path to success academically, personally, and professionally.
Messina fosters a transformative academic experience for students by extending substantive learning opportunities from the classroom to residence halls, the community, and beyond. One-third of Loyola's 1,100-member incoming first-year class will participate in Messina this year. Participation will expand to two-thirds next year and include the entire first-year class starting in fall 2015.
"Our Messina program may be new, but it brings to life what has always been a focus of Jesuit education—and education at Loyola—the idea that students need to make connections with one another, with faculty, and across disciplines, and to gain an appreciation, even a hunger, for knowledge," said Rev. Brian F. Linnane, S.J., president of Loyola. "Although Messina is different, the program is tied to that long-held commitment to deepening the intellectual experience."
Students who participate in Messina will choose one of three themes—-"Stories We Tell," "Self and Other," and "The Visionary" —and live in proximity to other students who chose the same theme. They'll choose an interdisciplinary course pairing within their chosen theme and take one course in the fall and one in the spring. While some course pairings have a clear link, such as politics/economics and theology/philosophy, other course pairings are far more non-traditional, such as theology/engineering and computer science/English. Faculty who teach Messina courses will collaborate to ensure paired courses complement each other.
Messina students will also have the opportunity to attend on- and off-campus events, performances, and excursions designed to extend classroom learning, build stronger communities around learning, and establish deeper relationships with faculty, administrators, and fellow students.
"As talented and committed as Loyola students have always been, they don't always see this university—classes, office hours, out-of-class and residential experiences—as a connected learning environment. Changing that and achieving a more thorough integration of their lives at Loyola is the newest and most exciting advantage of Messina," said Douglas Harris, Ph.D., associate professor of political science and co-director of the Messina Program. "Who they are as individuals is something they'll want to bring to the classroom."
Harris and Messina co-director Michael Puma were thrilled when more than 400 students from the Class of 2017 signed up for the program. They expected success, but they didn't anticipate students would show so much interest that Messina would have a wait list in year one—and even before the first student orientation in early June.
"This never happened with other first-year programs," said Puma. "With Messina, every class had more demand than we had seats for."
Loyola will continue to offer Loyola 101, its existing one-credit acclimation program for first-year students, through 2014. Loyola 101 will remain optional this year, be an alternate choice to Messina next year, and will be wholly replaced by Messina in 2015.
The Messina program is named after the city in Italy where St. Ignatius and the Jesuits founded their first school for lay students in 1548.
About Loyola University Maryland:
Established in 1852, Loyola University Maryland is a Jesuit comprehensive university comprising Loyola College, its school of arts and sciences; the Sellinger School of Business and Management; and the School of Education. Loyola enrolls 3,900 undergraduate and 2,000 graduate students from across the country and around the world.