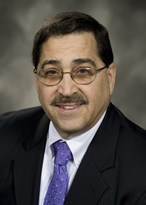 Baltimore, MD (PRWEB) September 24, 2013
The Loyola Clinical Centers (LCC) will honor Paul R. Rao, Ph.D., vice president of inpatient operations and compliance at the National Rehabilitation Hospital, at its 10th anniversary celebration on Thursday, Sept. 26, 2013, at 6:30 p.m. The invitation-only event will be held at the LCC's headquarters in Belvedere Square in north Baltimore.
Rao will be recognized for his decades of commitment to advancing health and human services.
"Dr. Rao's tremendous contributions to pedagogical and clinical innovations in the services we offer make him the ideal person to honor during such an important milestone for the Clinical Centers," said Janet Simon Schreck, M.S., CCC-SLP, executive director of LCC. "Our devotion to wellness in every aspect – from wellness of an individual or a family, to wellness of the community as a whole – mirrors his commitment to pioneer advances in valuable care that has improved lives across the country."
In addition to his position at the National Rehabilitation Hospital in Washington, D.C., Rao is a visiting professor at the University of Maryland and a certified professional in healthcare quality and a certified healthcare executive. He is a former affiliate faculty member of speech-language pathology at Loyola, and he is also a former president of the American Speech-Language Hearing Association (ASHA), the Maryland Speech and Hearing Association, the Maryland Board of Examiners, and the D.C. Association for Healthcare Quality. He has served on national committees and panels for ASHA, the Rand Corporation, the National Stroke Association, and the American Heart Association, among many other organizations.
Rao has authored or edited myriad published articles and chapters on customer service, policy and procedures, supervision, health literacy, and management. He is a sought-after speaker on a variety of clinical and administrative topics, having presented more than 100 lectures across the United States and abroad, and he was the commencement speaker for the University of Maryland's Department of Hearing and Speech Sciences in 2002 and at Boston University's Sargent College in 2007. He has received numerous honors and awards including two Clinical Achievement Awards from the American Speech-Language Hearing Foundation, Gallaudet University's Outstanding External Collaborator Award, and a lifetime achievement award from the D.C. Speech and Hearing Association.
Rao holds a Master's in Speech Pathology from Catholic University in Washington, D.C., and a Ph.D. in Hearing and Speech Science from the University of Maryland, College Park.
Rao will give brief remarks after he is honored at LCC's anniversary reception. Founded in 2003, LCC now serves more than 4,000 clients each year and trains nearly 200 graduate and undergraduate students among its three locations in the greater-Baltimore area.
About the Loyola Clinical Centers:
The Loyola Clinical Centers provides state-of-the-art facilities and treatment for people experiencing difficulties in the areas of psychology, pastoral counseling, literacy, hearing, speech, and language. The Centers operates from three locations: Loyola Clinical Centers Belvedere Square and Loyola/Notre Dame Library in Baltimore City, and Loyola's Columbia Graduate Center in Columbia, Howard County. Operating under the auspices of Loyola University Maryland, the Clinical Centers serve a dual function: to provide hands-on clinical training to Loyola graduate students, and to supply affordable, quality care to underserved members of the greater Baltimore community. The collaboration between community, students, and expert clinicians at the Loyola Clinical Centers shows that integrated care is truly a benefit for everyone.