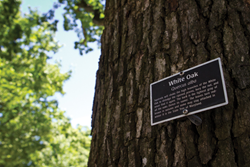 Baltimore, MD (PRWEB) June 24, 2014
Loyola University Maryland has been designated an accredited arboretum by the Morton Register of Arboreta for the University's dedication to nurturing and preserving dozens of tree species on the Evergreen campus. By achieving high standards of professional practices deemed important for arboreta and botanic gardens, the Loyola Arboretum is now recognized among other professional public gardens all over the world.
The plan to establish an arboretum at Loyola began in 1999, and today the 80-acre Evergreen campus boasts more than 2,200 trees that represent 84 varieties. An arboretum collects, grows, and displays trees, shrubs, and other pants for people to study and enjoy, and generally is open to the public for education and inspiration. The Loyola University Maryland Arboretum is one of only 11 arboreta in the state of Maryland on the Morton Register.
"Our mission is to provide a beautiful and sustainable environment for Loyola students, faculty, staff, and visitors," said Helen Schneider, associate vice president of facilities and campus services. "Maintaining the Loyola Arboretum is an opportunity to preserve the natural aesthetics of our historic campus and enhance its biodiversity."
Loyola met the requirements for Level I accreditation by the Morton Register by implementing a program to care for, label, and document trees, among other criteria. The Quad at the center of the Evergreen campus features a self-guided walking tour through a mixture of mature monarch trees and trees planted over the past few decades. Thirty tree varieties on the walking tour and elsewhere on campus are currently labeled.
Improvements planned for the future include labels for every tree variety and the development of a second walking tour in the area surrounding the Fitness and Aquatics Center. The additions will help the Loyola Arboretum achieve designations as a member of Tree Campus USA and Level II status with the Morton Register.
More information about the Loyola Arboretum is available at loyola.edu/sustainability and arbnet.org.
The Morton Register of Arboreta is a comprehensive list and database of arboreta and other public gardens that have a substantial focus on woody plants. The purpose of the Morton Register is to identify all of the organizations that collect and display trees, shrubs, and other woody plants for the benefit of the public, science, and conservation. The Morton Register, ArbNet, and the Accreditation Program are coordinated by the Morton Arboretum as an international initiative to support the work of arboreta in saving and planting trees.
About Loyola University Maryland:
Established in 1852, Loyola University Maryland is a Jesuit comprehensive university comprising Loyola College, its school of arts and sciences; the Sellinger School of Business and Management; and the School of Education. Loyola enrolls 3,900 undergraduate and 2,000 graduate students from across the country and around the world.