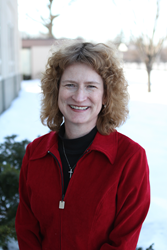 "Loyola is known for valuing intellectual rigor, and I look forward to working with the faculty to emphasize the importance of independent student research at both the graduate and undergraduate level."
Baltimore, MD (PRWEB) December 19, 2014
Loyola University Maryland has named Amanda Thomas, Ph.D., the next dean of Loyola College, the University's school of arts and sciences. Thomas is currently dean of the College of Arts and Sciences at Saint Joseph's University and previously served as a member of Loyola University Maryland's faculty and administration for more than 20 years. She assumes her new role at Loyola on July 1, 2015.
"Through her work for Loyola and Saint Joseph's, Dr. Thomas has established herself as a leader with a deep commitment to the Jesuit mission, the liberal arts, and a vision for how to meet the needs of today's undergraduate and graduate students," said Amy Wolfson, Ph.D., vice president for academic affairs at Loyola. "She will bring back to our community her outstanding experience as a teacher and scholar and a leader in academia who has a strong understanding of how to support faculty and students in innovative and meaningful ways. Her passion for education and interest in cultivating intellectual curiosity will strengthen Loyola's liberal arts and sciences programs, which are so critical to our students' success."
At Saint Joseph's, Thomas leads 21 academic departments, four academic divisions, and five interdisciplinary centers; oversees 240 full-time faculty; and is responsible for programs serving 2,600 undergraduate students and 2,300 graduate students, including 1,100 in online programs.
"It's an honor and a privilege to be returning to Loyola," said Thomas. "I have a great love for the mission of the University and Jesuit education—and for the many dedicated faculty and staff who infuse the mission and Jesuit values into the lives of Loyola's students. I look forward to working with colleagues in Loyola College and across the University community to continue strengthening the liberal arts education that rests at the heart of the undergraduate experience, and equally so, to supporting and bolstering the College's graduate offerings that are so valuable to our community. I am also particularly excited about collaborating with the deans of the School of Education and the Sellinger School of Business and Management in identifying ways to enrich the exceptional education that is a hallmark of Loyola University Maryland."
Prior to joining Saint Joseph's in July 2014, Thomas served as associate vice president of graduate studies at Loyola for five years, working across all the University's schools and divisions as an advocate and liaison on behalf of graduate programs and graduate students as integral members of the university community. From 2003 to 2009, she served as associate dean in Loyola College. She began her Loyola career as an assistant professor of psychology in 1991, was awarded tenure and promotion to associate professor in 1997, and became a full professor in 2002. Also during her time at Loyola, Dr. Thomas served on various committees including faculty and administrative searches, helped establish the Loyola Clinical Centers, and helped form the School of Education in 2009.
"Loyola is known for valuing intellectual rigor, and I look forward to working with the faculty to emphasize the importance of independent student research at both the graduate and undergraduate level," Thomas said. "As I work with my Loyola colleagues to identify the essential characteristics that we all hope students take from their time in the core curriculum, I also hope to expand the experiential learning—including areas where Loyola already excels, service-learning and study abroad. I look forward to emphasizing students' discernment as they progress through college and in particular as they lay a path for and begin their careers—encouraging students to take advantage of the resources available to them on campus and in the community and engage in a way that ensures future success."
The Loyola College of Arts and Sciences comprises 21 academic departments that represent a diverse offering of disciplines in the liberal arts. The school has 264 full-time faculty, more than 2,200 undergraduate students, and 850 graduate students.
"As the home to the liberal arts and sciences, Loyola College is the cornerstone of the exceptional education the University offers our students. In today's world, it is particularly important that the Loyola College dean bring not just a compelling vision, but also a profound belief in the value of the liberal arts and sciences. Dr. Thomas offers all of that, along with a true appreciation of the inherit value of the Jesuit education that prepares our students not just for the opportunities that exist today, but also the ones that we can't even foresee they will encounter in the future," said Rev. Brian F. Linnane, S.J., president of Loyola. "I am confident that with Dr. Thomas' leadership as dean, Loyola College will stay true to the traditions that make the liberal arts so valuable to our students, while finding new ways to make them not only relevant, but essential, for the future."
Thomas is a licensed psychologist whose research interests and publications focus on children and families and in particular, anxiety disorders. She earned both her M.S. and Ph.D. in Clinical Psychology from the University of Georgia and her B.A. from the College of William and Mary.
About Loyola University Maryland:
Established in 1852, Loyola University Maryland is a Jesuit comprehensive university comprising Loyola College, its school of arts and sciences; the Sellinger School of Business and Management; and the School of Education. Loyola enrolls 4,000 undergraduate and 2,000 graduate students from across the country and around the world.