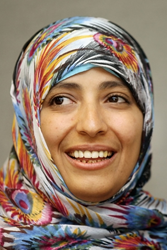 Baltimore, Md. (PRWEB) February 10, 2015
Human rights activist Tawakkol Karman will deliver Loyola University Maryland's third Hanway Lecture in Global Studies on Tuesday, April 7, 2015, at 7 p.m. in McGuire Hall. The event is free and open to the public, but tickets are required.
Karman, a journalist and politician in Yemen, has played a major role in the peace-building movement and revolution in her country, protesting for human rights and against government corruption. She was awarded the Nobel Peace Prize in 2011 for her leadership in the non-violent fight for women's rights and peace.
She was the first Yemeni, the first Arab woman, and the second Muslim woman to win the Nobel Peace Prize, as well as the youngest Nobel Peace Laureate to date, at age 32.
"With her inspiring courage, tenacious spirit, and ability to bring voice—and action—to the difficult position of Muslim women in our world, Tawakkol Karman can give our students deep insight into the human rights movement and the role we can each play in improving our world," said Rev. Brian F. Linnane, S.J., president of Loyola. "I look forward to welcoming Ms. Karman to Loyola and seeing how she will continue to elevate the conversation on our campus and in our community, just as the previous speakers in the Hanway Lecture in Global Studies have."
Known as the "mother of the revolution" and "the iron woman," Karman began organizing weekly protests in Yemen's capital in 2007. The protests continued until 2011, when Karman asked protestors to support the Arab Spring—demonstrations and protests in the Arab world that began in the early 2010s.
Karman has been imprisoned numerous times for her pro-democracy and pro-human rights protests. In addition to leading protests, Karman has also written several articles and created a national dialogue on these issues.
Karman is president of the Women Journalists Without Chains organization, which she co-founded in 2005. She is a senior member of the Al-Islah political party, also known as the Yemeni Congregation for Reform. She is also a member of the advisory board for the Transparency International organization and for several international human rights non-governmental organizations.
Karman was born in 1979 in Taiz, Yemen's third largest city. She earned a bachelor's degree in commerce from the University of Science and Technology in Sana'a and her master's in political science from the University of Sana'a. She and her husband have three children.
Karman continues to lead peaceful protests against government corruption and injustice, calling for equal citizenship in her country and the world.
About the Hanway Lecture:
The Hanway Lecture in Global Studies is an endowed lecture series made possible by a gift from Ed Hanway, a member of the University's Class of 1974 and former chair of its Board of Trustees, and his wife, Ellen. The inaugural lecture was held in April 2013 and featured Tony Blair, former prime minister of Great Britain and Northern Ireland. The second lecture, in October 2013, featured Colin Powell, U.S. Secretary of State under President George Bush.
Ticket information:
For more information about the event, including when tickets will be available and how to reserve them, please visit loyola.edu/hanwaylecture.