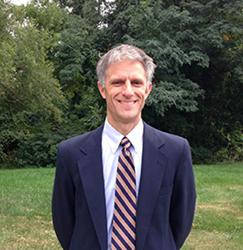 China is well on its way to becoming a leading global power, and many countries are not very prepared for that increasing influence.
Baltimore, Md. (PRWEB) April 13, 2015
Carsten Vala, Ph.D., associate professor of political science at Loyola University Maryland, has been awarded a grant through the Core U.S. Fulbright Scholar Program to study the politics of China's rapidly growing investment in Latin America, with a specific focus on China's influence on the copper industry in Chile.
Vala will travel to Chile for his research from August to December 2015. During that time he will also teach two courses on Chinese politics and Chinese globalization at Pontificia Universidad Católica de Chile in Santiago and offer public presentations on the contemporary politics of China.
"China is well on its way to becoming a leading global power, and many countries are not very prepared for that increasing influence," said Vala. "Those countries are only beginning to study China in a comprehensive way. My goal is to deepen their understanding of what China is doing and its historical development path."
China's historic economic expansion has made it one of the largest investors in and the primary trading partner for several Latin American countries. Chile is no exception; a free trade agreement between the two countries a decade ago positioned China as the dominant destination for Chile's copper exports. But interaction among Chinese officials, the Chilean government, and Chile's copper mineworkers' union has not always been smooth, as demonstrated by a 2008 strike that stopped Chile's proposed sale of a mine to China that would have increased China's stake beyond a deal giving China 55,000 tons of copper annually for 15 years.
Grassroots resistance in Chile to engagement with China speaks to a larger political debate about the long- and short-term socioeconomic ramifications of China's engagement with other developing countries in Latin America, Africa, and the Middle East. Copper, for example, is a low-profit natural resource, and a deal with China could trap Chile into exporting it with little benefit for many years into the future. In addition, there is disagreement as to whether China is repeating earlier, colonial methods of resource extraction or whether it is improving upon worldwide standards of labor management, governance, and environmental protection.
"Chile is an excellent case study for these debates because it helps answer questions about how civil society groups may resist powerful national government and global capital forces," said Vala, who is now teaching a course on China and globalization for the first time.
After his research is completed, Vala plans to write a book on China's globalization in South America. This area of scholarship is an expansion of his current research on religion-state relations in China, which includes an investigation of interactions between the Chinese Communist Party-state and the country's rapidly growing Christian population.
Vala is fluent in Mandarin Chinese. He previously spent two years living in a remote village as a Peace Corps volunteer in Suriname and one year teaching English as a second language in China.
Vala is the second Loyola faculty member to win a Fulbright this year. David Binkley, Ph.D., professor of computer science, won a Fulbright to support an international, collaborative research project on the evolution of software product families in safety critical systems.
About Loyola University Maryland:
Established in 1852, Loyola University Maryland is a Jesuit comprehensive university comprising Loyola College, its school of arts and sciences; the Sellinger School of Business and Management; and the School of Education. Loyola enrolls 4,000 undergraduate and 2,000 graduate students from across the country and around the world.