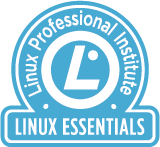 Largo, FL (PRWEB) August 20, 2014
ExamForce is pleased to announce the release of its LPI Linux Essentials CramMaster to their library of test preparation products.
As Linux adoption continues to rise world-wide more businesses recognize the need for professionals who can support the future of the Internet, the LPI Linux Essentials provides a credential that addresses the workforce development needs of employers, aspiring IT professionals, and students.
The goal of Linux Essentials is to expose students to the Linux operating system and the concept of Open Source software. As such, it is an ideal entry-level Linux program, whereas the LPIC-1/Linux+ are more targeted at information technology professionals in the field and have a reputation of being quite difficult.
The Linux Essentials credential is a recommended (not required) pre-requisite for training in the LPIC professional program and Linux+ certification. This is however a required credential for LPI Linux Essentials PDC.
The LPI Linux Essentials CramMaster contains over 200 questions to test ones skills and knowledge in preparation for the exam. ExamForce's triple testing methodology is included with every practice exam complete with assessment reports, adaptive drills, and exam quality simulations.
CramMaster covers the following five official LPI objectives:

The Linux Community and a Career in Open Source
Finding Your Way on a Linux System
The Power of the Command Line
The Linux Operating System
Security and File Permissions
About ExamForce
A division of LearnForce Partners LLC, ExamForce was founded in 1999 to assist individuals and organizations with preparing for and passing IT certification exams. Since our inception, our industry recognized materials have assisted countless people in growing their knowledge and advancing their careers. ExamForce develops and sells training and practice test software, audio preparation programs, study guides and flash cards for the Information Technology, Financial and Trade marketplaces.