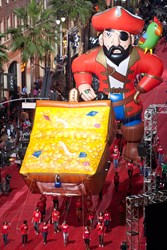 Hollywood, CA (PRWEB) December 03, 2013
Hollywood Blvd was lined on both sides with eager fans for the 82nd anniversary of the Hollywood Christmas Parade benefitting Toys for Tots. The evening started with a holiday concert on Hollywood Blvd featuring Daughtry, Richie Sambora, William Shatner, Kenny Loggins, Goo Goo Dolls, McClain Sisters, Leann Rimes, Billy Ray Cyrus and Stevie Wonder. The parade kicked off with Grand Marshal Buzz Aldrin and the USMC Band and included Congressman Adam Schiff, Mayor Eric Garcetti, Council Members Mitch O'Farrell and Tom LaBonge along with over 100 celebrities, nearly 20 marching bands and 14 large parade balloons along the 2 ½ mile route. Included was the 6-story tall Captain Tom Bristol with his Treasure Chest, from L. Ron Hubbard's swashbuckling tale Under the Black Ensign, one of 80 titles from the Stories from the Golden Age and sponsored by Author Services, Inc.
Author Services once again served as this year's green room servicing over 600 guests and with nearly 200 media lined up outside on the red carpet arrival line. One of the highlights was the arrival of astronaut Buzz Aldrin, grand marshal for this year's parade, as well as USMC General Pete Osman (Ret), President and CEO of the Marine Toys for Tots Foundation, acknowledging the official kick-off of the Toys for Tots 2013 season and a special drive to provide books and toys for less fortunate families.
Stories from the Golden Age contains 153 stories all written by Hubbard during the 1930s and 1940s—in genres ranging from Mystery to Thriller, Science Fiction and Fantasy to Adventure and Western, using his own and fifteen pen names—widely considered America's Golden Age of Fiction. The print version of each work includes the pulp fiction artwork that originally accompanied the story in magazine publication. In addition, each title offers a full-cast, unabridged audio theatrical presentation complete with theme music and sound effects. For more information on the books and audiobooks go to http://www.goldenagestories.com.