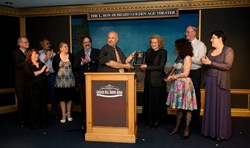 Hollywood, California (PRWEB) December 30, 2013
It was 75 years ago, in the July 1938 issue of Astounding Science Fiction, that "The Dangerous Dimension" was published marking the science fiction debut for the 27 year old L. Ron Hubbard. Earlier that same year, top execs of the New York publishing company Street & Smith engaged his assistance to begin writing a new kind of science fiction story where people, not machines or gadgets, were central to the story.
Four years earlier, on October 27, 1934 a fledgling Los Angeles Science Fantasy Society (LASFS) first opened its doors to fans of a new genre, "scientific fiction," later to be known as "science fiction" with the advent of Astounding. In its formative years, it had been visited by several of science fiction's greats, such as A.E. van Vogt, L. Ron Hubbard, Robert Heinlein and Ray Bradbury, and now admits such popular science fiction writers as Larry Niven, Jerry Pournelle, David Gerrold, Ray Harryhausen, John DeChancie, Tim Powers and Steven Barnes—making LASFS the world's oldest and continuously-meeting science fiction and fantasy club.
Having successfully celebrated its 75th anniversary in 2009, the Los Angeles Science Fantasy Society (LASFS) has begun their own campaign of recognizing science fiction's most notable authors who were also members of LASFS with their inaugural "75 year" award to L. Ron Hubbard. Several members of LASFS were on hand for the ceremony which took place at Author Services, Inc., the literary agency for L. Ron Hubbard. Making the presentation, Karl Lembke, Chairman of the Board of Directors of LASFS stated, "Civilization gives an honored place to the story tellers. From the place of honor by the fire, they illuminate our imaginations and drive back the darkness of the mind. Most authors have one or a few stories; a gifted few contain whole libraries. On this occasion, we honor such a grand master whose first published science fiction work, seventy-five years ago, would open such a library to the masses and entertain people for decades. We honor the work of LASFS member L. Ron Hubbard." Accepting on behalf of Mr. Hubbard was Joni Labaqui, the director for the Writers and Illustrators of the Future Contests, a program launched by Hubbard in 1983 as a means of ensuring a successful future for speculative fiction.
For more information on L. Ron Hubbard's fiction works, go to http://www.authorservicesinc.com.
For more information on the Los Angeles Science Fantasy Society go to http://www.lasfsinc.info.