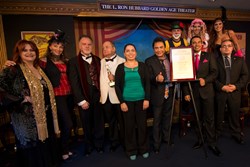 Hollywood, CA (PRWEB) October 15, 2013
Dignitaries, celebrities, educators and theater lovers were on hand Sunday, 13 October, at a packed Golden Age Theater in Hollywood, located just a block west of the famous Chinese Theatre, for the performance of L. Ron Hubbard's "If I Were You" by an all-star cast of Hollywood performers, including starring: Isidro Olace (Kaliman); Valentina Rendon (Allá Te Espero Cecilia, La Pola Magdalena Ortega de Nariño); Jaime Aymerich ("In a World" Carlos; Amar De Nuevo Memo; Historias de la Virgen Morena El Danny); Andrea Rincon ("Esto Es Guerra," "Alarma TV"; Carlos Reig-Plaza, ("The Abandoned" Anatolyi); and voice over professional Denise Lebre. Photos of performance at http://www.facebook.com/GoldenAgeTheater
At the conclusion of the show, a special plaque was presented to author L. Ron Hubbard in recognition of the release of the first 5 titles in Spanish and to the actors for their outstanding performance by Yida Jimena Mora Silva, Consul General de Colombia; Walter Eduardo Durán, Consul General de El Salvador; Pablo Cesar Garcia Saenz, Consul General de Guatemala; and, Teresa Quevedo, Univision 34.
A final special presentation was made to Isidro Olace from Author Services, Hubbard's literary agency, with the help of the famous radio personality El Cucuy, for a life of legendary triumphs and contributions to the Latin American culture.
The first five titles in the Stories from the Golden Age by L. Ron Hubbard to be released in Spanish included the wonderfully entertaining fantasy, If I Were You (which was the story performed on stage); the intergalactic science fiction story, The Great Secret; the thrilling western tale, Branded Outlaw; the swashbuckling pirate adventure, Under the Black Ensign and the mystery/thriller, Spy Killer.
The Spanish release of the titles is a continuation of a 6-year program started in 2008 to republish over 150 short stories and novelettes in the form of an 80-volume book and full cast audio drama series, now distributed in over 50 countries across the world.
Of special note by the publisher was that these first five books provide entertainment for readers of all the popular genres and so provide something for everyone. These stories are appropriate for middle school and older, and are perfect for getting reluctant readers to read and for improving literacy. And the glossary in the back of each book will improve vocabulary. Now that these titles are translated into Spanish, they will keep the language alive for the entire family.
For more information about L. Ron Hubbard's Stories from the Golden Age, go to http://www.goldenagestories.com and for additional photos go to http://www.facebook.com/GoldenAgeTheater