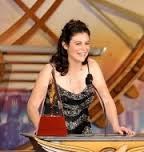 Hollywood, CA (PRWEB) August 07, 2013
Tina Gower of Chico, California who was honored as the grand prize winner at the 29th Annual L. Ron Hubbard Achievement awards in April of 2013 has just been informed that she won first place in the Romance Writers of America, Kiss of Death Chapter's "Daphne de Maurier Award" for the "Paranormal Time Travel, Futuristic Romantic Mystery/Suspense" category. Her unpublished winning story was titled "Identity." The international awards namesake, Daphne de Maurier, born into British royalty, was legendary in the mystery/suspense genre. Her most famous work "Rebecca," was adapted by Alfred Hichcock into the classic film that won Best Picture at the Oscars in 1940. He didn't stop there, also using another of her stories for his classic film, "The Birds."
Tina's first winning story this year, "Twelve Seconds," was published in – L. Ron Hubbard Presents Writers of the Future Volume XXIX which was released this spring.
Right on the heels followed the publication of her short story, "Today I am Nobody" in Galaxy's Edge magazine.
Writing is now possible for Tina as her husband supports her in her writing career. She is also a stay-at-home mother of two children. When asked what is next for her career she stated, "I will be teaming up with a legendary author in the now famous "Stellar Guild Series" which pairs a bestselling author with a protege of the author's choice. That will be officially announced shortly. I also just sold my second story this year to Galaxy's Edge, called "Dig."
Tina also just finished an author tour in Northern California and is now hunkering down and doing her favorite thing, writing.
To learn more, including details on how to enter the contests, visit the website at http://www.writersofthefuture.com.