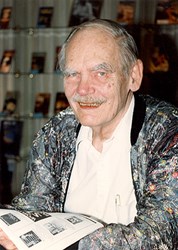 When unpublished writers ask for advice about how to get their careers moving I always advise them to enter their stories in the Writers of the Future contest.
Hollywood, CA (PRWEB) September 11, 2013
Frederik Pohl (November 26, 1919 – September 2, 2013) - 1993 Grand Master of Science Fiction, was not only known for his career as author, editor, critic, literary agent and fan but remained one of the most versatile and influential figures in the field of speculative fiction including helping young writers at the start of their careers.
From 1939 to 1943, Pohl was the editor of two pulp magazines, Astonishing Stories and Super Science Stories. Pohl also started a career as a literary agent in 1937 and carried on through the '50s in earnest. He stated himself that he represented more than half the successful writers in science fiction at some point in their careers.
His 1977 novel Gateway won four "year's best novel" awards: the Hugo voted by convention participants, the Locus voted by magazine subscribers, the Nebula voted by American science fiction writers, and the juried academic John W. Campbell Memorial Award. He won the Campbell Memorial Award in 1984 for Years of the City. Throughout his career he won four Hugo and three Nebulas. The Science Fiction and Fantasy Hall of Fame inducted him in 1998.
Pohl was also known for giving out awards himself to young writers, making it easier for them than when he started out. It was in 1983 that Frederik Pohl heard about L. Ron Hubbard's Writers of the Future contest from Algis Budrys, the famed science fiction editor and writer, who answered the call from L. Ron Hubbard to initiate the contest. Frederik was invited as a contest judge in the 2nd year and began judging immediately. Frederik reflected on his years as a judge on a trip to the contest awards ceremony in 2007. "When unpublished writers ask for advice about how to get their careers moving I always advise them to enter their stories in the Writers of the Future contest."
The greats of any profession are usually the most humble, the most dedicated and the most willing to help the new person in their field.
Coordinating judge of the contest, Dave Wolverton, stated, "Fred Pohl was always the greatest of gentlemen. As a young writer, on several occasions he took opportunities to go out of his way, sit beside me at dinner, and quietly offer advice. He was so humble. He always spoke from a sincere desire to be of assistance, never to boast or aggrandize himself."
Contest judge Kevin J. Anderson said, "When writing an appreciation, it's easy to get carried away with hyperbole. In Frederik Pohl's case, it is all true. When looking back on his many-pronged career in the genre, I cannot over-emphasize the far-reaching impact he had on science fiction. From his brilliant, award-winning writings that added whole new concepts to our general conversation, to his editing of Galaxy magazine, to being one of the first high-powered agents who recognized the value of the field, and to his wise mentoring of so many new writers with his work for the Writers of the Future contest. Fred Pohl was a soft-spoken, erudite man who always had something important to say. His influence on the field will continue for generations to come."
We will miss Frederik, but his greatness shines bright and will shine bright, way into the future. For more information on Writers of the Future, go to http://www.writersofthefuture.com.