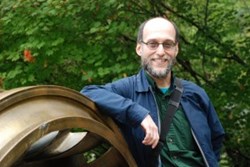 Hollywood, CA (PRWEB) September 16, 2013
David D. Levine has just released his award winning short story collection "Space Magic" on audio book, which is three of his award winning titles and twelve additional gems from his solid career. David performed all of the stories himself and is proud of the way it turned out. It is available from Audible.com, Amazon.com and on iTunes as well as through the publisher Book View Cafe. But some 50 plus published science fiction and fantasy stories into his career, this is indeed a celebration in itself.
It all started when David was awarded the 2nd Quarter, 2nd place winner at the 18th annual L. Ron Hubbard Achievement awards held in Hollywood, California. He won in 2001 and was published in 2002. The event celebrated the annual winners in the L. Ron Hubbard Writers and Illustrators of the Future Contest, making it further than several thousand others who entered the international competition. He won with a short story called "Rewind."
David went on to collect awards throughout the years and continues to do so. He has won the Hugo Award for Best Short Story, the Endeavour Award, the James White Award, People's Choice Award for Best Drabblecast Story of the year, the Phobos Fiction Contest and he has also been shortlisted for the Nebula's, Theodore Sturgeon award, the John W. Cambpell award (twice) among several others.
David is also popular in anthologies and has appeared in several "year's best" volumes throughout his career. In October this year David will see his novella, "Second Chance" release as well as his novelette, "The Wreck of the Mars Adventure" which will appear in an anthology, "Old Mars" from George R.R. Martin and Gardner Dozois. For his website, visit http://www.daviddlevine.com.
The Writers of the Future contest was initiated by L. Ron Hubbard in 1983 shortly after returning to the field of science fiction with his bestseller Battlefield Earth. For more information on the Writers of the Future contest, go to http://www.writersofthefuture.com.