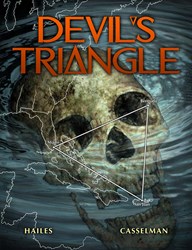 Hollywood, CA (PRWEB) October 30, 2013
Brian C. Hailes of Salt Lake City Utah, and 2001 winner of the L. Ron Hubbard Illustrators of the Future contest, announced the release of his graphic novel, "Devil's Triangle."
In the climactic finale of "Devil's Triangle," Gist Miller and what few are left of the original crew scramble aboard a purgatorial prison posing as a cruise ship set adrift. When Master Mahan, the ancient demon hell-bent on upgrading bodies, brings their pursuit to a head, Gist and friends must abandon their futile flight, and stand to face him. But lurking amidst angry phantom and zombie sailors, an even greater threat awaits them on the pitching deep—a threat spanning to biblical times. Caught up in a twister of good versus evil, Gist must find out what it really means to face the devil or lose everything he loves.
E-reader versions of all six issues of "Devil's Triangle" will be released in March 2014. Comixology just picked up the Devil's Triangle series and will soon make them available online.
Brian C. Hailes studied illustration and design at the Academy of Art University in San Francisco, and received his BFA degree from Utah State University after filling an internship at the Society of Illustrators in New York. Hailes has worked as a freelance illustrator, designer, and commission artist for fifteen years, and has received numerous awards for his art from across the country, starting at the age of thirteen - with a postage stamp contest where his winning design was issued for Earth Day's Commemorative Series in 1995 for the US Postal Service. He then went on to win the international L. Ron Hubbard Illustrators of the Future contest where he was published in the "L. Ron Hubbard Presents Writers of the Future" anthology and was given a week-long workshop where he was mentored on how to be a professional artist by articles from L. Ron Hubbard's art series as well as from contest judges such as Bob Eggleton. Since then Brian has written and illustrated two graphic novels, entitled "Dragon's Gait" and "Devil's Triangle." Other titles he has illustrated include "Passion & Spirit: The Dance Quote Book", "Continuum" (Arcana Studios), as well as "McKenna and McKenna, Ready to Fly!" (American Girl).
For more about Brian Hailes' art visit http://www.hailesart.com. For more information on the Illustrators of the Future contest visit http://www.illustratorsofthefuture.com.