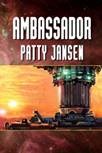 Hollywood, CA (PRWEB) November 13, 2013
Patty Jansen of Sydney, Australia and 2011 winner of the L. Ron Hubbard Writers of the Future contest, announced the release of her novel, "Ambassador", through Ticonderoga Publications. The publishing house has been in business since 1996 and has also won the Ditmar Award, Australia's version of the Hugo Awards in the United States.
Ambassador's protagonist, Cory Wilson is first introduced as a child in another of Patty's novels, "The Far Horizon." "Ambassador" is the story of Cory's adult life and is as follows: Nations of Earth Ambassador Cory Wilson had thought the hardest part of his role would be mastering the many intricacies of gamra pronouns. Then the President is shot in front of him, and all clues point to extraterrestrial agencies. Only the truth will prevent the conflict escalating, but to find it, Cory has to challenge the very top of the Coldi empire, in a society where the simple act of looking someone in the eye or using the wrong pronouns can mean the difference between life and death.
"Ambassador" is now available in a limited-edition hardcover, trade hardcover and trade paperback editions.
Patty started writing seriously in 2003 and within a year, she had joined Online Writing Workshop for Science Fiction and had her first nonpaying story published in a small magazine. Her first pro sale, to the Universe Annex of the Grantville Gazette, came two weeks before winning the second quarter of the Writers of the Future Contest. Her story, "This Peaceful State of War" appeared in "L. Ron Hubbard Presents Writers of the Future Volume XXVII" in 2001. Patty has gone on to publish several novels including her "Icefire" trilogy, the "Return of Aghyrians" trilogy, "Shifting Reality," "Watcher's Web" and "The Far Horizon." She has also published several novellas and has had several of her short stories appear in anthologies as well as in "Analog."
As it is free-to-enter, L. Ron Hubbard's Writers of the Future, now in its 31st year, enjoys amazing success with thousands of entrants yearly. Created by best-selling author L. Ron Hubbard, the contest has to date launched the careers of 12 New York Times bestselling authors: Jo Beverley, Tobias Buckell, David Farland, Nancy Farmer, Eric Flint, Karen Joy Fowler, Tim Myers, Patrick Rothfuss, Lisa Smedman, Dean Wesley Smith, Elizabeth Wein and Sean Williams.
To learn more, including details on how to enter the contests, visit the website at http://www.writersofthefuture.com . To find out more about the works of Patty Jansen visit
http://www.pattyjansen.com.