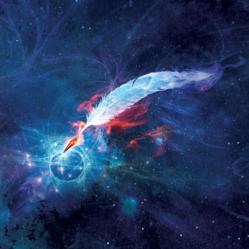 Hollywood, CA (PRWEB) November 28, 2013
Science fiction/fantasy fans and authors will explore the subject of scientific ideas at this year's festivities at the 40th annual Los Angeles Science Fantasy Society convention on Thanksgiving weekend at the LAX Marriott. The annual panel will be moderated by the L. Ron Hubbard Writers of the Future contest director Joni Labaqui and the panels will also include judges Todd McCaffrey, Tim Powers, and Gregory Benford. Several past winners of the contest will also participate, including 1991 Grand Prize winner James C. Glass, 2010 Grand Prize winner Laurie Tom, winners Brennan Harvey, and Scott T. Barnes.
In the Conventions formative years, guests included some of science fiction's biggest names: Ray Bradbury, Robert Heinlein, L. Ron Hubbard and A.E. van Vogt. The club itself was founded in 1934 making LASFS the world's oldest and continuously-meeting science fiction and fantasy club. Through the years famous and now current bestselling writers in the field continue to attend, such as Steven Barnes, Gregory Benford, John DeChancie, David Gerrold, Todd McCaffrey, Larry Niven, Jerry Pournelle and Tim Powers. They have all become regulars at the Convention.
"We expect brisk booksales at this convention", said Sarah Toth, Director of Sales for Galaxy Press, US publisher of L. Ron Hubbard's fiction works. She will also be selling books for the Toys for Tots toy drive, sponsored by the U.S. Marines, of which this year's toys and books will go to needy children across the United States.
Initiated by multiple New York Times' best-selling author L. Ron Hubbard, the merit-based Writers of the Future Contest. Hundreds of winners have had successful writing careers following their win and publication in the anthology, and to date has launched the careers of 12 New York Times bestsellers including:
Jo Beverley, Tobias S. Buckell, Nancy Farmer, Eric Flint, Karen Joy Fowler, Tim Myers, Patrick Rothfuss, Lisa Smedmen, Dean Wesley Smith, Elizabeth Wein, Sean Williams, and Dave Wolverton aka David Farland.
For more information on the Writers of the Future contest and how to enter, go to http://www.writersofthefuture.com.